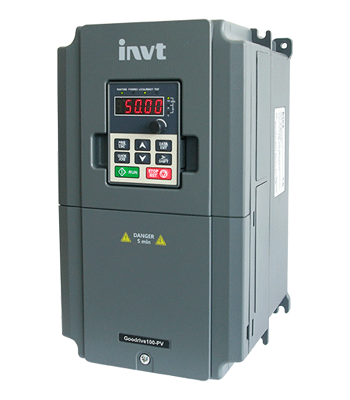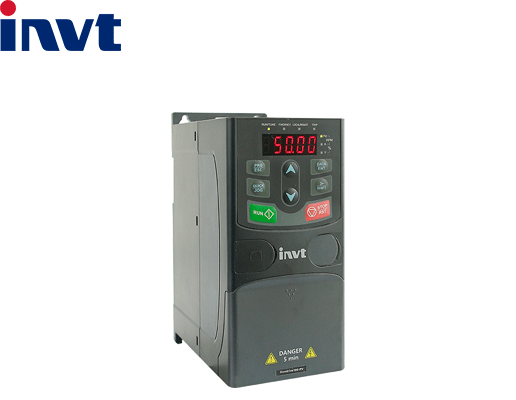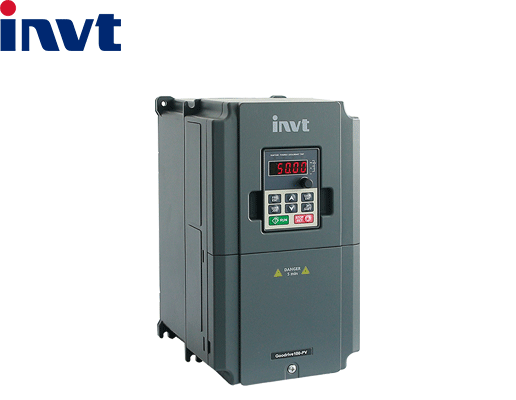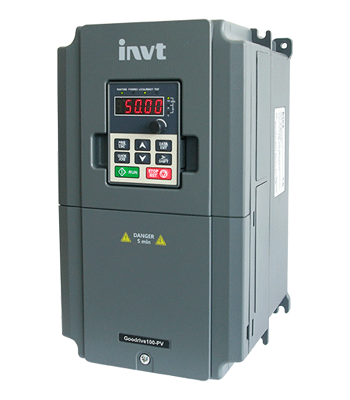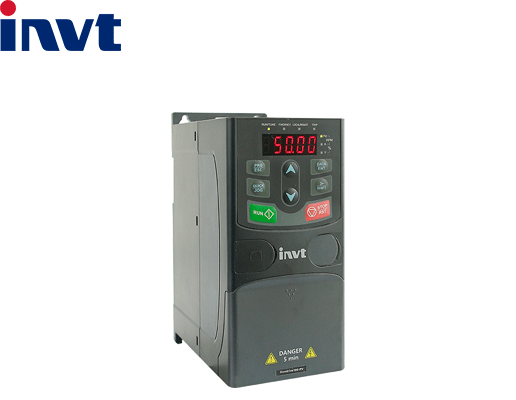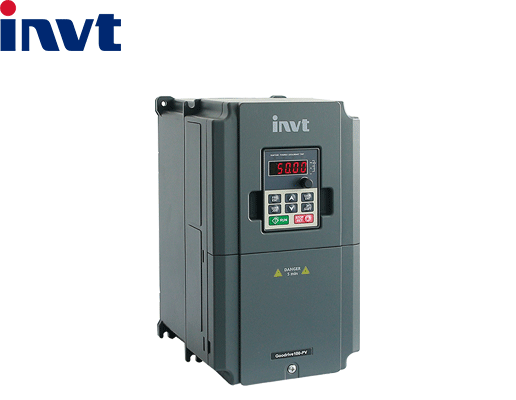 Goodrive100-PV Solar Water Pump Inverter
The GD100-PV product is developed by INVT, utilizing solar power to control water pump. Water supply system with endless power source without grid or battery.
Yêu cầu báo giá
Specifications
| | |
| --- | --- |
| Power range: 0.75 ~ 110 kW | Efficiency: 99% |
| Brand: INVT | Protection level: IP20, IP54 (Protection cabinet) |
| Cooling mode: Air cooling | Installation mode: Support wall-type, rail-type and flange-type installation |
See detailed specifications
Model

-SS2
-S2
-2
-4

AC input voltage (V)

220 (-15%) ~ 240 (+10%)
(1 PH)
220 (-15%) ~ 240 (+10%)
(3 PH)
380 (-15%) ~ 440 (+10%)
(3 PH)

Max input DC voltage (V)

440

440

440

800

Starting voltage (V)

200

200

200

300

Min operating voltage (V)

150

150

150

250

Recommended DC input voltage range (V)

200 ~ 400

200 ~ 400

200 ~ 400

300 ~ 750

Recommended MPP voltage (V)

330

330

330

550

Rated output voltage (V)

220 (1 P)

220 (3 PH)

220 (3 PH)

380 (3 PH)

Output frequency range (Hz)

0 ~ 400

MPPT

99%

Installation mode

Support wall-type, rail-type and flange-type installation

Ambient temp

-10℃~+50℃, derate by 2% per every additional 1℃ if the temp is above

Elevation

Below 1000m; derate by 1% per every additional 100m if the elevation is above 1000m

Cooling mode

Air cooling

Protection level

IP20; IP54 (protection cabinet)
DAT Solar – Premier Partner of INVT Group
With more than 400 experienced employees always ready to support 24/7 before and after sales, DAT Solar is committed to ensuring the quality of all products distributed nationwide and providing smart solutions to help customers save time and costs.
Another reason for you to rest assured to put your trust in us:

15+
Year Of Experiences

400+
Staff

9500+
Solar power system with a total
capacity of 560MW nationwide

10+
10MW inverter
are always available
ACCOMPANY DAT TO "GREEN" VIETNAM WITH SOLAR POWER YOUR WAY!
Smart technology, superior features
Easy to use
INVT has eliminated all complicated settings that make it easy for users to connect and operate
Smart
RS485, Ethernet, WIFI communication protocol
Have system monitoring function via iMars application on computer or phone with internet connection
MPPT optimization method helps the system achieve 99% efficiency
Perform automatic conversion of input between solar power and grid, helping the system to operate continuously for 24 hours without supervision.
Automatic start mode and hibernates without setting parameters
Include overvoltage protection PV function, reverse flow warning PV, automatic load reduction to prevent overheating, extending product life
Supply IP54 protection cabinet
Protect internal equipment and extend product life under extreme operating conditions
Fan is mounted on the top of the cabinet
Good heat dissipation, superfast cooling, providing smooth operation
Integrated booster (2.2 kW or less)
For a capacity of 2.2 kW or less, the booster helps water pump to operate stably even under low voltage conditions, reducing. solar panel costs
INVT – Inverter brand present in 60 countries in the world
INVT is a high-tech corporation in the field of automation and solar power, INVT brand is developed throughout 60 countries worldwide. INVT uses German components and technology. All product manufacturing processes are strictly inspected and certified with the quality certificate of TÜV SÜD system. The product is manufactured in accordance with CE standards for the European market and UL for the North American market..
QUALITY SAFETY CERTIFICATE

Products meet technical quality standards of TUV SUD system (Germany)

INVT strictly adheres to the restriction of substances harmful to humans and the environment in production.

Products are recognized to ensure high quality according to European standards. Canadian Solar panels have met the standards of safety, health, life and environmental protection. Products are allowed to be sold in countries of the European Economic Area (EEA, etc.)

The product has been quality tested by the VDE Testing and Certification Institute based in Offenbach (Germany), one of the world's most famous testing organizations for electrical and electronic products.