07.04.2021
HYBRID POWER STORAGE SOLUTION FOR HOUSEHOLDS
Why do households need a hybrid power storage solution?
Currently, many households are in need of investing in solar power and want the system to be able to be used at night or during a power outage.
In many areas far away from the substation, there are often flickering and weak power sources; at the same time, at present, the country has nearly 1 million households without electricity and many island districts are having to use diesel generators with very high prices.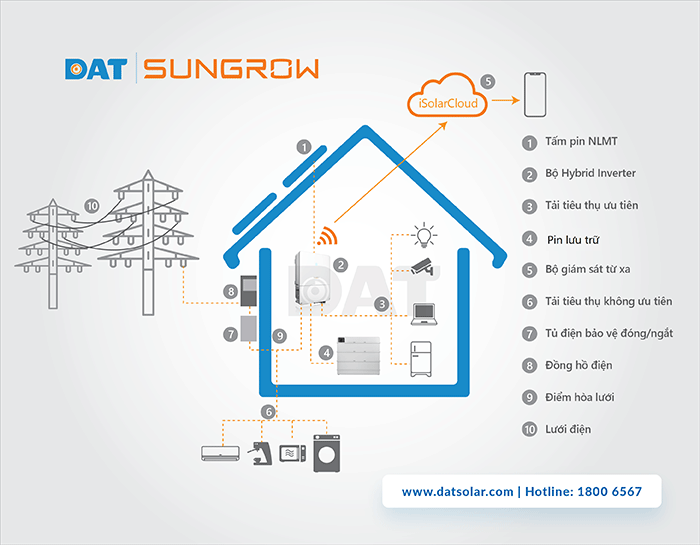 Therefore, the Hybrid power storage solution for households is the optimal choice for efficient power management, gradually becoming a new trend in the future.
Hybrid power storage solutions have been widely used all over the world, especially in countries with strong development in solar power such as Germany with more than 50,000 solar power systems combined with storage, in the US with more than 10,000 systems, etc, installed as of 2019. However, there are not many solar power systems with Hybrid storage in Vietnam and it will grow stronger in the future because of the increasing demand for energy storage.
So, what is a hybrid power storage system?
Hybrid power storage solution is a solar power system that combines a lithium battery to store electricity, which helps to provide uninterruptible and stable power for important electrical equipment such as surveillance cameras, refrigerators, freezers, computer systems, wifi, fire alarm systems, electric rolling doors, Koi aquariums, etc. at the same time, store excess solar power during the day for use in the evening or when the power fails.
The principle of operation of the hybrid power storage system
The priority system uses solar power to power priority loads in the home, while fully charging the lithium storage battery.
If the solar power is left over, it will be connected to the grid to supply other devices.
When there is a shortage of solar power, the system will supplement the grid power to supply electrical equipment and charge the lithium storage battery.
In the event of a power failure, the system uses solar energy and electricity from storage batteries to provide priority load equipment, maintaining a constant and stable power supply.
Outstanding advantages of the system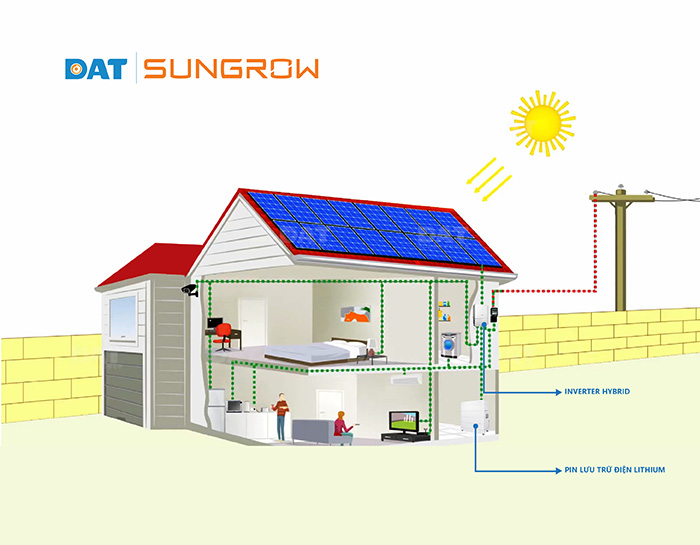 + Maintain uninterrupted power 24/7 for critical loads
The system stores solar power into a storage battery so that it can be used at night or when there is a power outage, maintaining continuous operation for important electrical appliances in the family. The time to switch to standby mode is less than 20ms, the device still operates normally without any interruption.
+ Not dependent on the grid
Due to the storage battery as a backup power source, the system does not depend too much on the national grid, actively managing the power source effectively. Therefore, when there is a power failure, the equipment still works normally and stably.
+ Save on electricity costs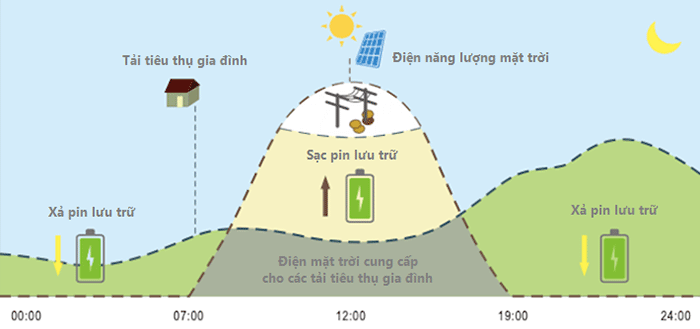 With many operating mechanisms, flexible energy flow, the system is further configured with a charge/discharge function according to time and actual needs, allowing to charge the storage battery at normal hours and emit it for use at peak hours to save electricity costs for customers using electricity 3 rates according to the time frame (peak, normal, off-peak).
+ Make the most of solar power
During the day, if the solar power source is not used up, the system will charge the battery to store it for use at night or during a power outage. This avoids loss of output and optimizes solar power.
+ Reduce noise pollution, safe for the environment
The Hybrid solar power system operates on an automatic, quiet, and noiseless basis like generators, does not use gasoline, oil, etc., which is friendly to the environment.
Weaknesses of the system
Since the system capacity is highly dependent on the load capacity and standby time; therefore, in order for the system to meet the needs of the equipment load in the family, to operate stably when there is no power grid, customers need to be surveyed and consulted by Hybrid power storage solution providers to choose a system with the highest capacity and storage capacity.
Choose DAT Solar – Choose an efficient hybrid power storage solution
Over the past 15 years, DAT Solar has constantly developed a comprehensive Ecosystem, selected global quality products and researched solutions to increase efficiency for customers, partners and investors of solar power.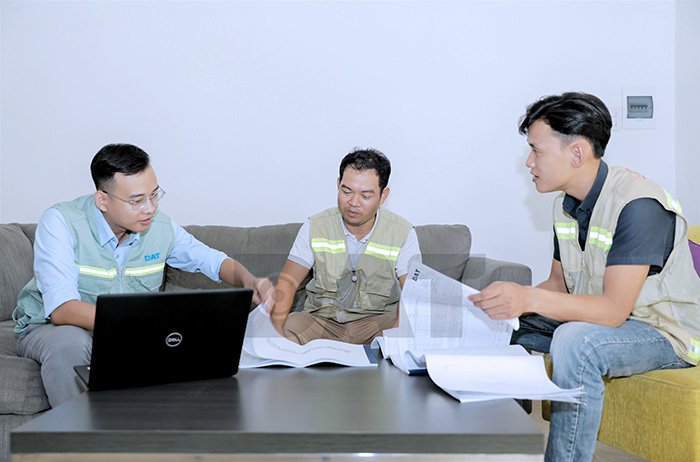 Especially, for the Hybrid electricity storage solution for households, DAT Solar's team of engineers and solar experts will survey the load consumption parameters, the existing power system structure and the demand for back-up power supply for important loads, usage load time, etc. to advise and offer deployment plans, design suitable Hybrid storage solar power systems, effectively manage power sources, maintain power uninterruptible provision for priority loads and other household appliances.
More reasons for customers and partners to accompany DAT Solar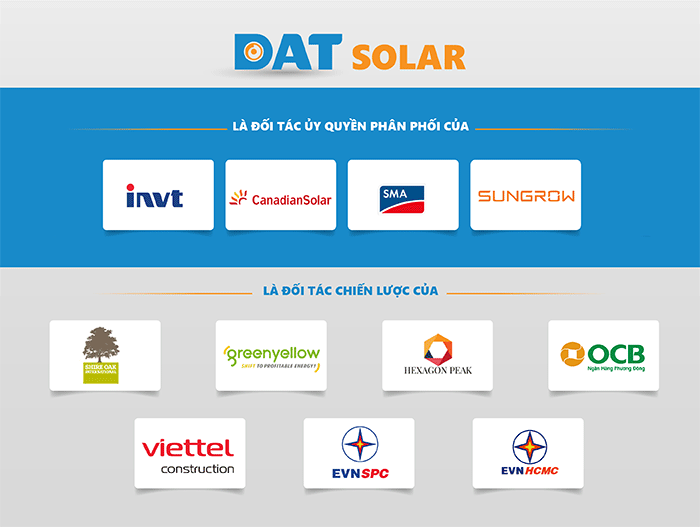 If you purchase DAT Solar's products/solutions, you will be trained, coached in knowledge of solutions and deployment techniques with the direct participation of a team of experienced DAT Solar experts and engineers in providing and designing, deploying more than 10,000 solar power systems.
Become a Partner: DAT Solar is committed to providing a full package of products/solutions, companion and support in terms of policies, tools, training, customers and techniques.

Large warehouse, ready goods: Especially in terms of equipment sources, DAT Solar invested in a large warehouse in Ho Chi Minh City, Hanoi, and Can Tho, about 10MWp of batteries and tens of thousands of inverters are always available at competitive prices, helping customer and partners not to waste time and money on importing and storing equipment.
DAT Solar technical service centers are authorized by manufacturers to guarantee genuine products in Ho Chi Minh, Hanoi, Can Tho
All products provided by DAT Solar have genuine electronic warranty. Customers can install and check the warranty period and policy at the DAT Portal App on Google Play (Android) or Apple Store (IOS).
With more than 400 experienced employees always ready to support 24/7 before and after sales, DAT Solar is committed to ensuring the quality of all products distributed nationwide and providing smart solutions to help customers save time and costs.