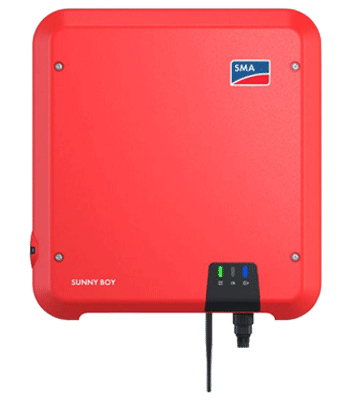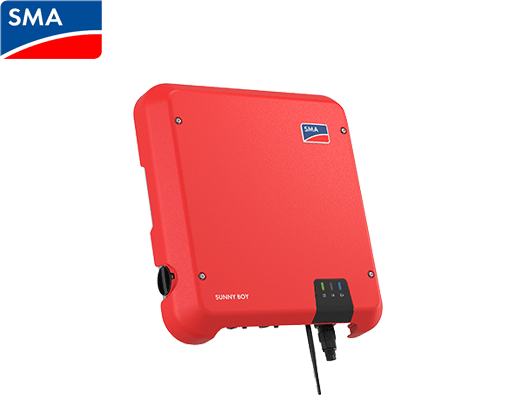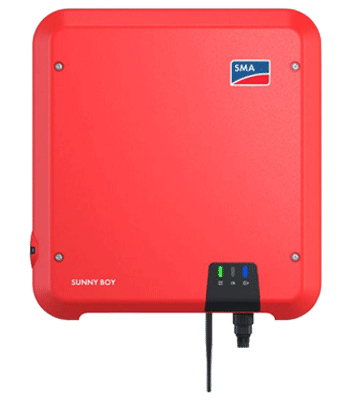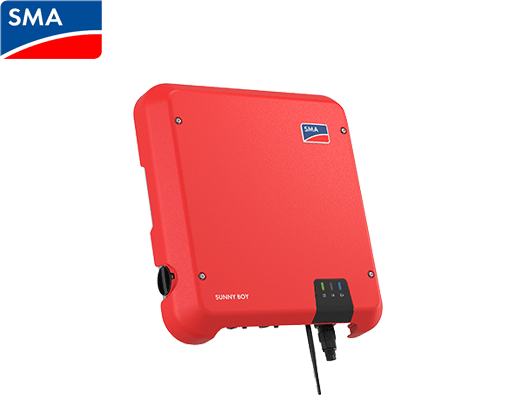 SMA Sunny Boy 5kW Inverter
Sunny Boy 5kW inverter series is manufactured by the world's leading brand SMA (Germany), strictly following all the most complex international standards. Sunny Boy 1 phase is the optimal choice for household and villa solar power systems. The product features extensive monitoring functions, all features and operating parameters can be adjusted remotely to improve system uptime, conversion efficiency is as high as 97%.
Yêu cầu báo giá
Specifications
| | |
| --- | --- |
| Capacity: 5 kW | Maximum efficiency: 97% |
| Trademark: SMA | Protection level: IP65 |
| Display: Via phone, tablet, laptop | Communication standards: RS485, WIFI, Ethernet |
See detailed specifications
Model
Sunny Boy 5.0
Input (DC)
Maximum input power
7500Wp
Maximum input voltage
600V
MPP voltage range
175V – 500V
Rated input voltage
365V
Min. input voltage/Startup input voltage
100V/125V
Max input A current/Max input B current
15A/15A
Max input A current per row/Max input B current per row
22A/22A
Number of independent MPP trackers / Strings per MPP tracker
2/A:2; B:2
Output (AC)
Rated power (at 230V, 50Hz)
5000W (1)
Max. apparent AC power
5000VA (1)
Rated AC voltage/Operating range
220V, 230V, 240V/180V to 280V
AC power frequency/Operating range
50Hz, 60Hz/−5Hz to +5Hz
Rated power frequency/rated grid voltage
50Hz/230V
Max. output current
22A (2)
Power factor at rated power
1
Power factor adjustment
0.8 leading to 0.8 lagging
Feed-in phases/AC connection
1/1
Efficiency
Max. efficiency/European efficiency
97%/96.5%
Protective equipment
Input isolation point
●
Ground fault monitoring/Grid monitoring
● / ●
DC reverse current protection/AC short-circuit current capability / galvanically isolated
● / ● / —
All-pole sensitive residual-current monitoring unit
●
Protection class (according to IEC 62103)/Overvoltage classification (according to IEC 60664-1)
I / III
General data
Dimensions (W/H/D)
435mm/470 mm/176 mm (17.1 inches/18.5 inches/6.9 inches)
Weight
17.5kg (38.5lb)
Operating temperature range
−25 °C to +60 °C (−13 °F to +140 °F)
Noise emission
25dB(A)
Power consumption (night)
5.0W
Structure
No transformer
Cooling method
Convection
Protection class (according to IEC 60529)
IP65
Climatic category (per IEC 60721-3-4)
4K4H
Max. permissible value for relative humidity (non-condensing)
100%
Features
DC connection/AC connection
SUNCLIX/AC Connection
Display via phone, tablet, laptop
●
Communication: WLAN/Ethernet/RS485
● / ● / ●
Communications protocol
Modbus (SMA, Sunspec), Webconnect, SMA Data, TS4-RAL
Shading management: Integrated SMA ShadeFix/TS4-RAL
● / ○
Warranty: 5/10/15 years
● / ○ / ○
Certifications and approvals (required for further details)
AS 4777.2, C10/11, CE, CEI 0-21, EN 50438, G59/3-4, G83/2-1, DIN EN 62109/IEC 62109, NEN-EN50438, IE-EN50438, NT_Ley20.571, ÖVE/ÖNORM E 8001-4-712 & TOR D4, PPDS, PPC, RD1699, TR3.2.1, UTE C15-712, VDE-AR-N 4105, VDE0126-1-1, VFR 2014, RfG compliant DEWA, IEC 61727, IEC 62116, MEA, NBR16149, PEA, SI4777, TR3.2.2
Supported countries Smart Connect SMA
AU, AT, BE, CH, DE, ES, FR, IT, LU, NL, UK
Note
● Standard features ○ Optional features — Not available
Data at rated condition. Last modified: November 2019
1) 4600 W/4600 VA according to the VDE-AR-n 4105 2) AS 4777: 21.7 A
Product code
SB5.0-1AV-41
DAT SOLAR – AUTHORIZED DISTRIBUTOR OF SOLAR INVERTER SERIES OF SMA
With more than 400 experienced employees always ready to support 24/7 before and after sales, DAT Solar is committed to ensuring the quality of all products distributed nationwide and providing smart solutions to help customers save time and costs.
Another reason for you to rest assured to put your trust in us:

15+
Year Of Experiences

400+
Staff

9500+
Solar power system with a total
capacity of 560MW nationwide

10+
10MW inverter
are always available
ACCOMPANY DAT TO "GREEN" VIETNAM WITH SOLAR POWER YOUR WAY!
OUTSTANDING FEATURES
Easy installation
Installation is easy and secure by simply plugging in the unit without opening the inverter.
Start operating easily with your phone or tablet.
Integrated output controller with SMA Power Meter.
Everything at a Glance
Direct access to inverter operation via phone or tablet.
Free and online monitoring through Sunny Places.
Modern
Communication via Ethernet and WLAN.
Upgrade with SMA's energy storage system and smart home solution.
High productivity
Utilize excess energy through power limit change
Manage shading with OptiTrac Global Peak or the built-in TS4-R connection.
POLICY
Warranty: 5 years (standard) / 10.15 years (optional)