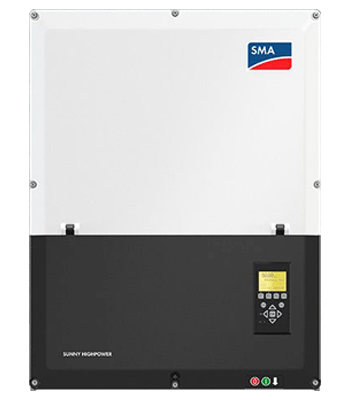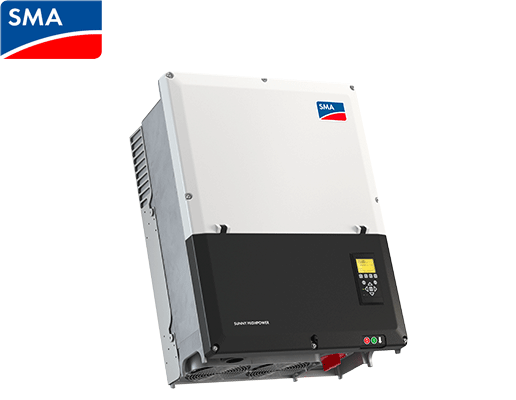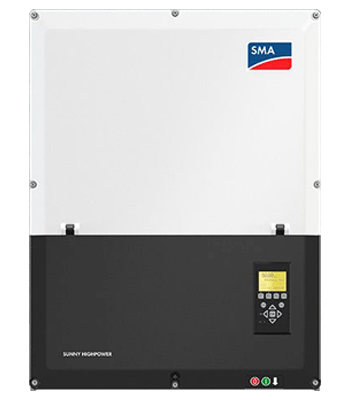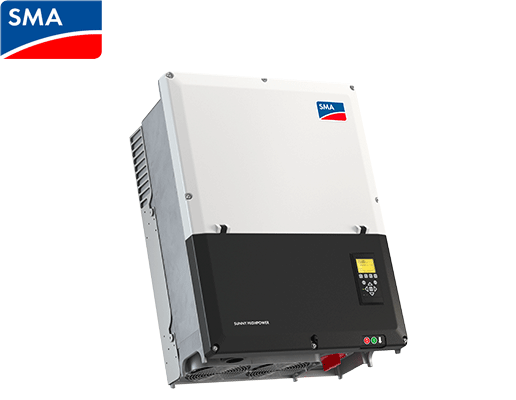 SMA Sunny Highpower Peak1 75kW Inverter
Sunny Highpower Peak1 75kW 3-phase inverter manufactured by the world's leading brand SMA (Germany), is the optimal choice for large-scale enterprise solar power systems. The product has an innovative solution that combines the advantages of a PV distributed system layout with superior features. Inverter Sunny Highpower Peak1 helps the system operate stably, ensuring high efficiency up to 98.8%.
Yêu cầu báo giá
Specifications
| | |
| --- | --- |
| Capacity: 75 kW | Maximum efficiency: 98.8% |
| Trademark: SMA | Protection level: IP65/NEMA3R |
| Display: LED Display | Communication standards: External inverter management device |
See detailed specifications
Model
Sunny Highpower Peak1
Input (DC)
Maximum power
112500Wp
Rated capacity
76500W
Maximum input voltage
1000V
MPP voltage range (at 400 Vac/480 Vac)
570V to 800V/685V to 800V
Minimum input voltage (at 400 Vac/480 Vac)
565V/680V
Starting input voltage (at 400 Vac/480 Vac)
600V/720V
Maximum current/Max short circuit current
140A/210A
Number of independent MPP trackers / Strings per MPP tracker
1/1 (branching in external cabinet)
Rated DC voltage (at 400 Vac/480 Vac)
630V/710V
Output (AC)
Rated power at rated voltage
75000W
Max. apparent AC power
75000VA
Maximum reactive power
75000 var
Nominal AC voltage
3/PE, 400V to 480V, ±10%
AC voltage range
360V to 530V
AC grid frequency / range
50Hz/44Hz to 55Hz 60Hz/54Hz to 65Hz
Rated power frequency/rated grid voltage
50Hz/400V
Maximum output current (at 400 Vac)
109A
Power factor at rated power / displacement power factor adjustable
1 / 0 leading to 0 lagging
Harmonic
less than 1%
Feed-in phases / connection
3/3
Efficiency
Maximum efficiency/Euro-eta
98.8%/98.2%
Protective equipment
DC isolation equipment
●
Ground fault monitoring/Grid monitoring
● / ●
Built-in DC surge protection/AC surge protection
Level II/Level II + III (combined)
AC short-circuit current capability / galvanically isolated
● / —
Pole sensitive residual-current monitoring unit
●
Protection class (according to IEC 62109-1) / overvoltage category (according to IEC 62109-1)
I/AC: III; DC: II
General data
Dimensions (W/H/D)
570/740/306mm (22.4/29.1/12.0 inches)
Weight
77kg (170lb)
Operating temperature range
‒25°C to +60°C (‒13°F to +140°F)
Noise emission
58 dB(A)
Power consumption (night)
less than 3W
Topology / cooling concept
No transformer/Positive
Protection class (according to IEC 60529/UL 50E)
IP65/NEMA 3R
Climatic category (per IEC 60721-3-4)
4K4H/4Z4/4B2/4S3/4M2/4C2
Max. permissible value for relative humidity (non-condensing)
95 %
Features – Functions – Accessories
DC connection/AC connection
Screw connector
Display
Graphic display
Data communication
SunSpec Modbus TCP (via external SMA Inverter Manager)
Ability to run independently / Ability to combine Diesel-solar power
— / ●
Warranty: 5/10/15/20 years
● / ○ / ○ / ○
Certifications and approvals (required for further details) * do not apply to country-specific annexes to EN 50438 **limited (see manufacturer's statement)
AS 4777, BDEW 2008, C10/11:2012**, CEI 0-16, DEWA 2015, EN 50438*, G59/3, IEC 60068-2-x, IEC 61727, IEC 62109-1/2, IEC 62116, LEY Nº 20751, NEN EN 50438, NRS 097-2-1, PEA 2015, R.D.661/2007, Res. n°7:2013, SI4777, TORD4**, UTE C15-712-1, VDE 0126-1-1, VDE-AR-N 4105**, VFR 2014
Note
● Standard features ○ Optional features —  Not available
Product code
SHP 75-10
DAT SOLAR – AUTHORIZED DISTRIBUTOR OF SOLAR INVERTER SERIES OF SMA
With more than 400 experienced employees always ready to support 24/7 before and after sales, DAT Solar is committed to ensuring the quality of all products distributed nationwide and providing smart solutions to help customers save time and costs.
Another reason for you to rest assured to put your trust in us:

15+
Year Of Experiences

400+
Staff

9500+
Solar power system with a total
capacity of 560MW nationwide

10+
10MW inverter
are always available
ACCOMPANY DAT TO "GREEN" VIETNAM WITH SOLAR POWER YOUR WAY!
OUTSTANDING FEATURES
Efficiency
High power density: 75kW weighs only 77kg
Maximum output with DC/AC factor up to 150%
Trust
Solar power system up to 75kW
The SMA inverter manager is the central control unit
Flexible
Input DC voltage up to 1000V
Flexible DC solution with customer-tailored external terminals
Renew
Handy design
New cooling model
POLICY
Warranty: 5 years (standard) / 10, 15, 20 years (optional)