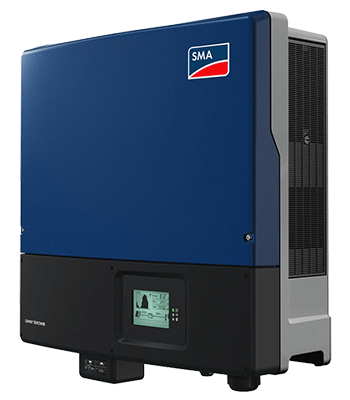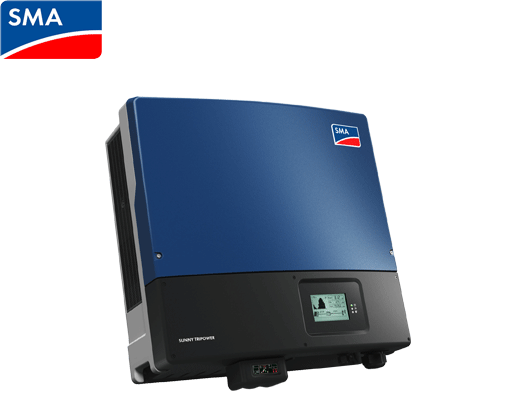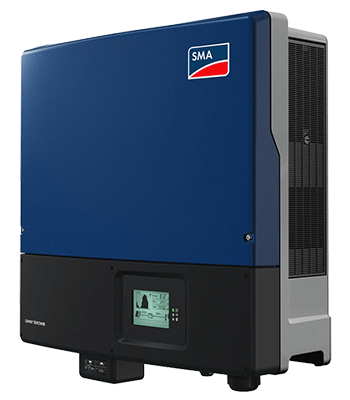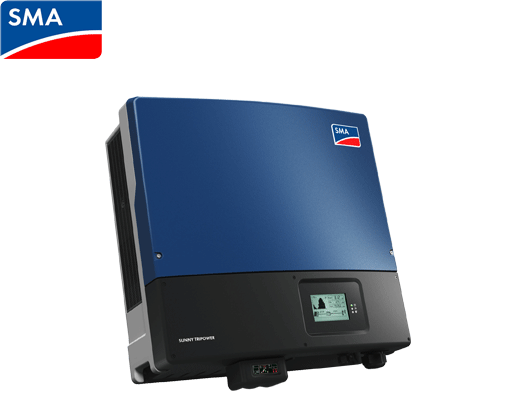 SMA Sunny Tripower 25kW Inverter
The 25kW Sunny Tripower Inverter series, manufactured by the world's leading brand SMA (Germany), is the perfect inverter for large-scale, enterprise solar power systems. The product has a high conversion efficiency of up to 98.3% and a flexible design, compatible with many PV modules thanks to its multiphase capability and wide input voltage range.
Request a quote
Specifications
| | |
| --- | --- |
| Capacity: 25 kW | Maximum efficiency: 98.3% |
| Trademark: SMA | Protection level: IP65 |
| Display: LCD display (Optional) | Communication standards: RS485, Speedwire (Optional)/Webconnect |
See detailed specifications
MPP voltage range / rated input voltage

Min. input voltage / start input voltage

Max. input current input A / input B

Number of independent MPP inputs / strings per MPP input

Rated power (at 230 V, 50 Hz)

3/N/PE; 220V/380V 3/N/PE; 230V/400V 3/N/PE; 240V/415V

Rated power frequency / rated grid voltage

Max. output current / Rated output current

Power factor at rated power / Adjustable displacement power factor

1/0 overexcited to 0 underexcited

Feed-in phases / connection phases

Max. efficiency / European Efficiency

DC-side disconnection device

Ground fault monitoring / grid monitoring

Ground fault monitoring / grid monitoring

DC reverse polarity protection / AC short-circuit current capability / galvanically isolated

All-pole sensitive residual-current monitoring unit

Protection class (according to IEC 62109-1) / overvoltage category (according to IEC 62109-1)

661/682/264 mm (26.0/26.9/10.4 inches)

Operating temperature range

-25°C to +60°C (-13°F to +140°F)

Self-consumption (at night)

Topology / cooling concept

Degree of protection (as per IEC 60529)

Climatic category (according to IEC 60721-3-4)

Maximum permissible value for relative humidity (non-condensing)

DC connection / AC connection

SUNCLIX / spring-cage termina

Interface: RS485, Speedwire/Webconnect

Data interface: SMA Modbus/SunSpec Modbus

Multifunction relay / Power Control Module

OptiTrac Global Peak / Integrated Plant Control / Q on Demand 24/7

Off-Grid capable / SMA Fuel Save Controller compatible

Guarantee: 5/10/15/20 years

Ability to operate independently of the grid/Compatible with SMA fuel economy controller.

Certificates and permits (more available on request) * Does not apply to all national appendices of EN 50438

ANRE 30, AS 4777, BDEW 2008, C10/11:2012, CE, CEI 0-16, CEI 0-21, EN 50438:2013*, G59/3, IEC 60068-2-x, IEC 61727, IEC 62109-1/2, IEC 62116, NBR 16149, NEN EN 50438, NRS 097-2-1, PPC, RD 1699/413, RD 661/2007, Res. n°7:2013, SI4777, TOR D4, TR 3.2.2, UTE C15-712-1, VDE 0126-1-1, VDE-AR-N 4105, VFR 2014

● Basic function ○ Optional function — No support
DAT SOLAR – AUTHORIZED DISTRIBUTOR OF SOLAR INVERTER SERIES OF SMA
With more than 400 experienced employees always ready to support 24/7 before and after sales, DAT Solar is committed to ensuring the quality of all products distributed nationwide and providing smart solutions to help customers save time and costs.
Another reason for you to rest assured to put your trust in us:

15+
Year Of Experiences

400+
Staff

9500+
Solar power system with a total
capacity of 560MW nationwide

10+
10MW inverter
are always available
ACCOMPANY DAT TO "GREEN" VIETNAM WITH SOLAR POWER YOUR WAY!
OUTSTANDING FEATURES
Safety: Can integrate DC surge protection (Type II SPD).
Flexible
Input DC voltage up to 1000V.
Multiple input branches for design flexibility.
LCD display can be integrated.
New improvements
Modern grid management function integrated system control.
Can provide 24/7 Q power.
POLICY
Warranty: 5 years (standard) / 10, 15, 20 years (optional)