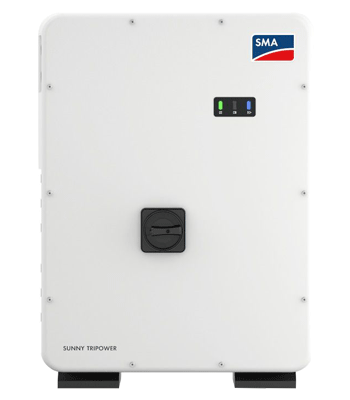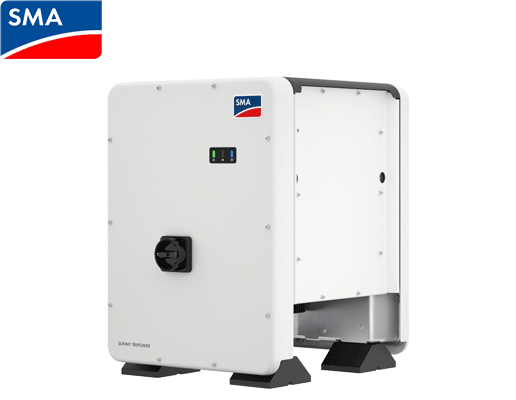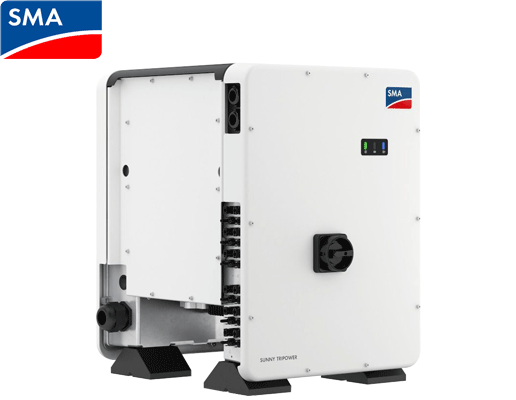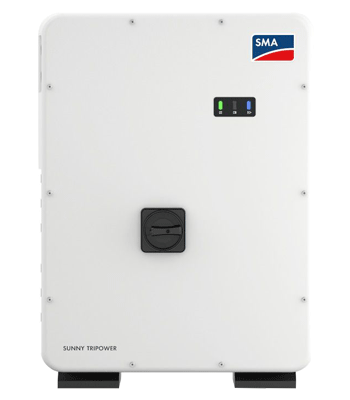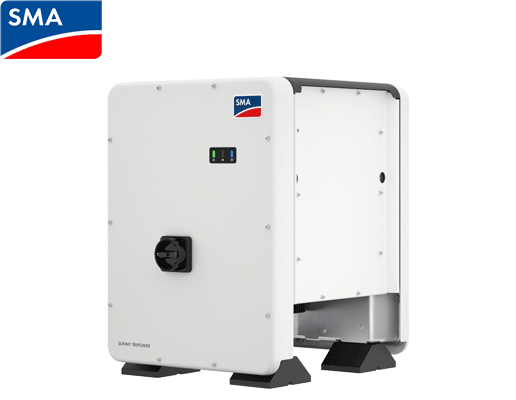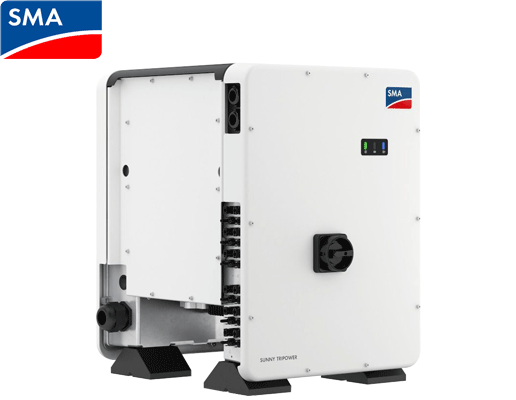 SMA Sunny Tripower Core1 50kW Inverter
Sunny Tripower Core1 3-phase inverter manufactured by the world's leading brand SMA (Germany), is the world's first rackless inverter series for rooftop and ground PV systems. This is the 3rd generation product of SMA which has been successfully applied and started the revolution of commercial inverters with innovative design in the world. Product installation is up to 60% faster than commercial inverters, significantly reducing time and costs.
Request a quote
Specifications
| | |
| --- | --- |
| Capacity: 50 kW | Maximum efficiency: 98.1% |
| Trademark: SMA | Protection level: IP65 |
| Display: LED Display (Optional) | Communication standards: WIFI, Ethernet, RS485 (optional) |
See detailed specifications
Model
Sunny Tripower Core1
Input (DC)
Maximum input power
75000Wp STC
Maximum input voltage
1000V
MPP voltage range/Rated input voltage
500V to 800V/670V
Rated input voltage
365V
Min. input voltage/Startup input voltage
150V/188V
Input maximum operating current/per MPPT
120A/20A
Maximum short circuit current per MPPT/per branch
30A/30A
Number of independent MPP trackers / Strings per MPP tracker
6/2
Output (AC)
Rated power (at 230V, 50Hz)
50000W
Max. apparent AC power
50000VA
AC voltage range
202V to 305V
Nominal AC voltage
220V/380V 230V/400V 240V/415V
AC grid frequency / range
50Hz/44Hz to 55Hz 60 Hz/54Hz to 65Hz
Rated power frequency/rated grid voltage
50Hz/230V
Maximum output current/Rated output current
72.5A/72.5A
Feed-in phases / connection
3/3-(N)-PE
Power factor at rated power / displacement power factor adjustable
1 / 0.0 leading to 0.0 lagging
THD
less than 3%
Efficiency
Max. efficiency/European efficiency
98.1%/97.8%
Protective equipment
DC isolation equipment
●
Ground fault monitoring/Grid monitoring
● / ●
DC reverse current protection/AC short-circuit current capability / galvanically isolated
● / ● / —
Pole sensitive residual-current monitoring unit
●
Protection class (according to IEC 62109-1) / overvoltage category (according to IEC 62109-1)
I / AC: III; DC: II
AC/DC surge arresters (type 2, type 1/2)
○
General data
Dimensions (W/H/D) without pins or DC load break switch
569/733/621mm (22.4/28.8/24.4 inches)
Weight
84kg (185lb)
Operating temperature range
‒25°C to +60°C (‒13°F to +140°F)
Noise emission
less than 65dB(A)
Power consumption (night)
4W
Topology / cooling concept
No transformer/Positive
Protection class (according to IEC 60529)
IP65
Climatic category (per IEC 60721-3-4)
4K4H
Max. permissible value for relative humidity (non-condensing)
100%
Features – Functions – Accessories
DC connection/AC connection
SUNCLIX/Screw connector
Mounting type
●
LED indicator
●
LCD display
○
Communication (Ethernet/WLAN/RS485)
● (2 ports) / ● / ○
Data interface: SMA Modbus/SunSpec Modbus/Speedwire, Webconnect
● / ● / ●
Multi-function relay/Module expansion slot
● / ● (2 ports)
OptiTrack Global Peak/Integrated System Control/On-Demand Q Level 24/7
● / ● / ●
Grid-independent operation ability / SMA fuel economy controller compatible
● / ●
Warranty: 5/10/15/20 years
● / ○ / ○ / ○
Certifications and approvals (required for further details) * do not apply to country-specific annexes to EN 50438
ANRE 30, AS 4777, BDEW 2008, C10/11:2012, CE, CEI 0-16, CEI 0-21, EN 50438:2013*, G59/3, IEC 60068-2-x,IEC 61727, IEC 62109-1/2, IEC 62116, MEA 2013, NBR 16149, NEN EN 50438, NRS 091-2-1, PEA 2013, PPC, RD 1699/413, RD 661/2007, Res. n°7:2013, SI4777, TOR D4, TR 3.2.2, UTE C15-712-1, VDE 0126-1-1, VDE-ARN 4105, VFR 2014, P.O.12.3, NTCO-NTCyS, GC 8.9H, PR20, DEWA
Note
● Standard features ○ Optional features —  Not available
Product code
STP 50-40
DAT SOLAR – AUTHORIZED DISTRIBUTOR OF SOLAR INVERTER SERIES OF SMA
With more than 400 experienced employees always ready to support 24/7 before and after sales, DAT Solar is committed to ensuring the quality of all products distributed nationwide and providing smart solutions to help customers save time and costs.
Another reason for you to rest assured to put your trust in us:

15+
Year Of Experiences

400+
Staff

9500+
Solar power system with a total
capacity of 560MW nationwide

10+
10MW inverter
are always available
ACCOMPANY DAT TO "GREEN" VIETNAM WITH SOLAR POWER YOUR WAY!
OUTSTANDING FEATURES
Cost-effective
Floor-standing form, easy to install
No DC fuse needed
Built-in DC isolator
High compatible
Built-in Wifi to connect to mobile devices
12 direct inputs from the battery array reduce labor and material costs
AC/DC overvoltage protection (optional)
Fastest installation
Connect to the grid quickly thanks to easy configuration and operation.
Ease of access to the connection area
Maximum productivity
DC/AC factor up to 150%
6 separate MPPT branches for optimum yield even when shading
POLICY
Warranty: 5 years (standard) / 10, 15, 20 years (optional)