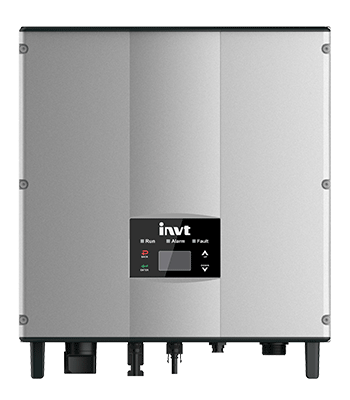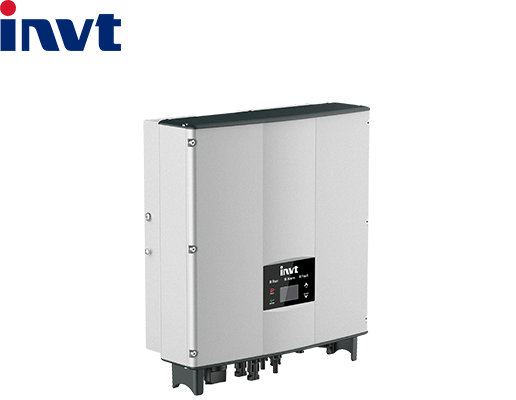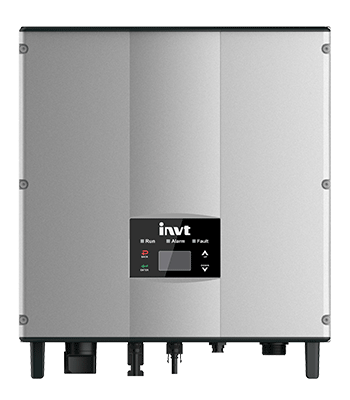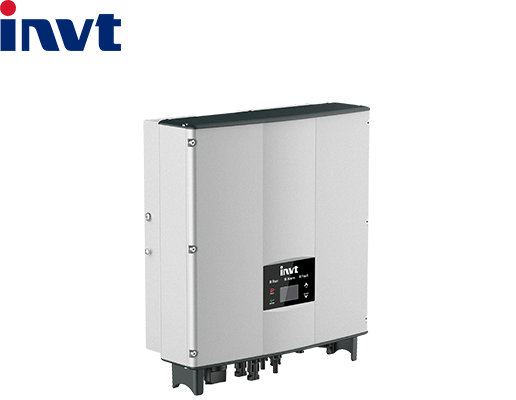 INVT iMars MG (2 MPPT Series) Inverter
Inverter INVT MG 1 phase 2 MPPT series is popular for household applications. The product has a compact design, easy to install and operate interface. The product is developed on the basis of German technology, stable operation with efficiency up to 97.8%.
Request a quote
Specifications
| | |
| --- | --- |
| Capacity: 3 ~ 6 kW | Maximum efficiency: 97.80% |
| Trademark: INVT | Protection level: IP65 |
| Display: LED/LCD display (optional) | Communication standards: RS485, WIFI, Ethernet |
See detailed specifications
Model
MG3KTL-2M
MG4KTL-2M
MG4K6TL-2M
MG5KTL-2M
MG6KTL-2M
Input (DC)

Maximum input DC power (W)

3600

4800

5520

6000

6300

Maximum input DC voltage (V)

600V

Starting voltage (V)/Minimum working voltage(V)

120/100

Operating voltage MPPT(V)

120-550

Number of MPPT / String per MPPT

2/1

Rated Current (A)

8×2

10×2

11×2

12×2

16×2

Output (AC)

Nominal capacity (W)

3000

3680

4200

5000

6000

Maximum AC current (A)

14

16

18.3

20

26

Power factor

≥0.99(Adjustable)

THDi

< 3% (Nominal capacity)

Nominal output voltage (V) / frequency (Hz)

230, L+N+PE, 50/60
Efficiency

Maximum efficiency

97.70%

97.70%

97.70%

97.80%

97.80%

Euro efficiency

96.70%

96.70%

96.70%

96.80%

96.80%

MPPT efficiency

99.99%
Protection

Protection

DC insulation monitoring, DC overcurrent, leakage current monitoring, grid protection, isolation protection, over temperature protection, over voltage protection, short circuit protection
General data

Display

LED/LCD display (optional)

Language

English, German, Chinese, Dutch

Communication standards

RS485, WIFI, Ethernet (optional)

Cooling

Natural

Protection class

IP65

Consumption in the evening

<1w

Isolation mode

No transformer

Operating temperature

-25oC ~ +60oC (derate above 45oC)

Humidity

0 ~ 95%, non-condensing

Dimensions (H x W x D mm)

462 × 360 × 150

Weight (kgs)

≤18

Grid qualification

DIN VDE 0126-1-1:2013, VDE-AR-N 4105:2011, DIN VDE V 0124-100:2012, G83-2:2012, G59/3-2:2015, IEC 61727(IEC62116), AS/NZS 4777.2:2015, NB/T32004-2013, IEC 60068-2-1:2007, IEC 60068-2-2:2007, IEC 60068-2-14:2009, IEC 60068-2-30:2005, IEC 61683:1999

Safe certificates / EMC certificates

IEC 62109-1:2010, IEC 62109-2:2011, EN 61000-6-2:2005, EN 61000-6-3:2007/A1:2011

Warranty (year)

5(standard)/10(optional)
DAT Solar – Premier Partner of INVT Group
With more than 400 experienced employees always ready to support 24/7 before and after sales, DAT Solar is committed to ensuring the quality of all products distributed nationwide and providing smart solutions to help customers save time and costs.
Another reason for you to rest assured to put your trust in us:

15+
Year Of Experiences

400+
Staff

9500+
Solar power system with a total
capacity of 560MW nationwide
10+
10MW inverter
are always available
ACCOMPANY DAT TO "GREEN" VIETNAM WITH SOLAR POWER YOUR WAY!
Effective investment solutions for solar power projects
Reliable
Solid aluminum casing, luxurious, natural cooling
The display is protected by 2 layers, high safety
Using high-grade components to ensure stable operation of the grid. MOSFET chip, DC switch from Germany, Capacitor and Relay from Japan
Products have warranty coverage, provided by internationally renowned insurance company (AIG)
Efficient
Wide voltage range, low starting voltage and high conversion efficiency 97.8%
Maximum power point detector (MPPT) circuit with wide range of adaptation, suitable for harsh environments
Smart
Communication protocol RS485, Ethernet, WIFI
Has the function of monitoring the system through the iMars application on a computer or phone with an internet connection
INVT – Inverter brand present in 60 countries around the world
INVT is a high-tech corporation in the field of automation and solar power, the INVT brand has expanded to 60 countries around the world. INVT uses German components and technology. All product manufacturing processes are rigorously tested and certified by the TÜV SÜD system. Products are manufactured on CE standards for the European market and UL for the North American market.
QUALITY SAFETY CERTIFICATE

Products meet technical quality standards of TUV SUD system (Germany)

INVT strictly adheres to the restriction of substances harmful to humans and the environment in production.

Products are recognized to ensure high quality according to European standards. Canadian Solar panels have met the standards of safety, health, life and environmental protection. Products are allowed to be sold in countries of the European Economic Area (EEA, etc.)

The product has been quality tested by the VDE Testing and Certification Institute based in Offenbach (Germany), one of the world's most famous testing organizations for electrical and electronic products.
POLICY
Warranty: 5 years (standard) / 10 years (optional).