15.10.2020
DAT Solar and it's partner provide comprehensive financial solutions for Enterprises installing Solar power
In the context that the Government has just issued Decision No. 13 on the incentive mechanism for solar power in Vietnam, enterprises are facing the opportunity to invest and earn VND billions each year thanks to the policy of buying solar power on the roof at the price of VND 1,9430/kWh (equivalent to UScent 8.38/kWh). Investment capital is the most difficult and urgent problem for enterprises today. Understanding that, DAT Solar has coordinated with financial partners to help enterprises easily own a solar power system without worrying about capital.
ESCO solution: The owner does not invest capital and still earns about VND 300 million to 1 billion/year
With this model, when the enterprise meets the conditions to participate, the enterprise provides the idle roof, DAT Solar will conduct the survey, consultation, design, product supply, installation, and connection to the grid, operation supervision and warranty. 100% investment in system installation will be paid by DAT's financial partner. Enterprises do not need to worry about any risks because the system is guaranteed by DAT Solar and its financial partners.

The graph shows the benefits of saving electricity bill thanks to the ESCO solution (under the fixed price plan)
Every month, the business will pay electricity according to the electricity output from the solar power system to DAT's financial partner at an agreed price (lower than EVN's). When installing a capacity of 1MWP, enterprises can save about VND 300 million to 1 billion per year for electricity, depending on whether the enterprises are using electricity for production or business. After 15-20 years, the enterprise has the right to renew the contract or inherit the solar power system for a symbolic price of 1 USD, continuing to benefit in the remaining years.
Roof rental: With 6000m2 factory roof, get nearly VND 300 million profit per year.
In addition to ESCO, if the enterprise has a relatively large roof area (>3500m2), it can also participate in the roof rental model implemented by the financial investment fund and DAT Solar. This form has many similarities with ESCO from the application appraisal step to the benefits, such as the business does not need to invest capital, all procedures from system installation, operation and maintenance are borne by DAT Solar and it's financial partner. At the end of the contract, the enterprise also has the right to inherit the system with a symbolic price of 1 USD if needed.
The difference of the main form of roof rental is that DAT's financial partner will pay the roof rental monthly to the business, as a percentage of the revenue from the sale of all electricity generated from the solar power system for EVN. Specifically, with roof space from 6000m², enterprises can enjoy about 10% of revenue, nearly 300 million per year.
Roof rental model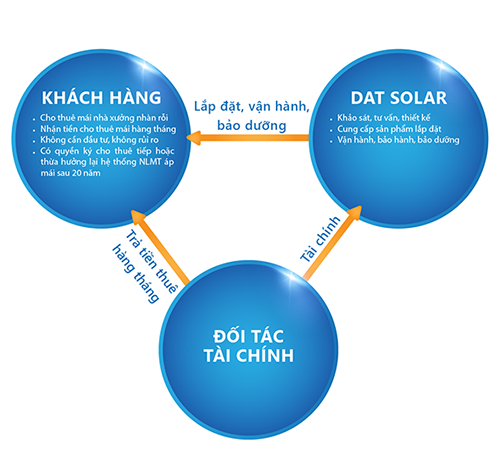 Finance loan: The owner's revenue can be up to VND 4.5 billion/year
Currently, a solar power system with a capacity of 1MWP can help enterprises save about 3 to VND 4.5 billion for electricity per year (depending on whether the enterprises are using electricity for production or business). In order to create favorable conditions for enterprises to achieve the goal of saving production costs and being flexible in using capital, currently, DAT Solar is collaborating with HDBank and Chailease to deploy a loan for solar power installation in roof, mortgaged by the solar power system itself. Accordingly, HDBank and Chailease will support loans up to 70%, details as follows:
Chailease financial leasing to install rooftop solar power
Chailease represents customers to buy solar power systems from DAT Solar and lease them back to customers.

Preferential rental capital with rate up to 60%, interest rate from 8.5-10.5%
Flexible lease term is up to 5 years
The main collateral is the solar power system on the roof
Flexible forms of payment.
Contract signed by 3 parties (Chailease – DAT – Customer)

HDBank Loan for construction of rooftop solar power
HDBank lends customers to invest in rooftop solar power

The maximum credit level is up to 70% of the value of the solar power system.
The main collateral is the solar power system on the roof
Loan term is up to 8 years
The interest rate will be agreed upon by the customer and HDBank
Loan rate on real estate (real estate) is up to 85%
Financial solutions are bringing high efficiency, helping enterprises have more flexible financial channels, creating leverage to help enterprises invest in clean energy and save production costs.
The policy of purchasing solar power (FIT2) is available, the financial solution is in place, the EPC contractor DAT Solar is ready, please act today to save VND billions for electricity each year, towards green and sustainable development.
For more details about conditions and procedures to participate, please contact hotline 1800 6567 (toll-free) for quick support.
WHY CHOOSE DAT SOLAR?
DAT Solar is a member brand of Dat Technical Company Limited (DAT). DAT was established in 2006, is a leading product supplier and solution developer in Vietnam in high-tech fields such as Solar Power & ESS, Automation, Elevator Control, UPS.
• 15+ years of experience.
• 400+ equivalent to 41% of highly qualified engineers.
• 7000+ business customers.
• 9500 solar power systems with total capacity of 560MW installed nationwide.
• 24/7 consulting support and lifelong companionship of the project.
DAT is a partner of many financial investment funds, large banks, providing ESCO solutions, financial leasing, lending capital and has successfully implemented many projects, bringing high efficiency to customers. We are also:
• Authorized partner of Canadian Solar, general representative of INVT, commercial partner of SMA and Sungrow in Viet Nam
• Strategic partner of EVNHCMC