12.04.2021
ENERGY STORAGE SYSTEM SOLUTION FOR BUSINESSES, POWER PLANT
The demand for electricity storage is increasing, an efficient solution is needed
Developing renewable energy, especially solar power, is still an effective solution to ensure energy security, replacing fossil fuel sources that are gradually depleting.
However, the "explosive" development of solar power has led to oversupply at noon due to low load and the best solar radiation of the day. Meanwhile, the peak time for electricity use falls in the evening time and there is no sunlight at this time. Therefore, it is necessary to have electricity storage solutions to increase investment efficiency, make the most of solar power, avoid energy waste and reduce the load on the national grid.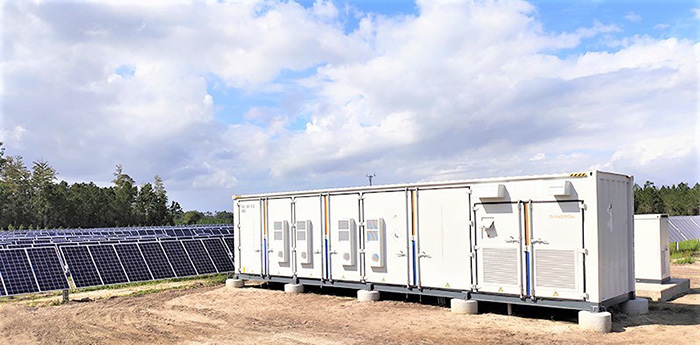 More efficient electricity storage solutions, less emissions than coal, oil, etc. helps Vietnam to pursue its emission reduction target while still managing its energy resources efficiently and ensuring economic development.
So, what is ESS power storage solution?
ESS electricity storage solution is a battery-powered energy storage system with large capacity for businesses and power plants, making maximum use of solar power, storing power during normal hours to use during peak hours to save power. The system provides power even when the grid power fails and can be used in areas with weak electricity, intermittent electricity or island districts without grid electricity.
The principle of operation of the ESS power storage solution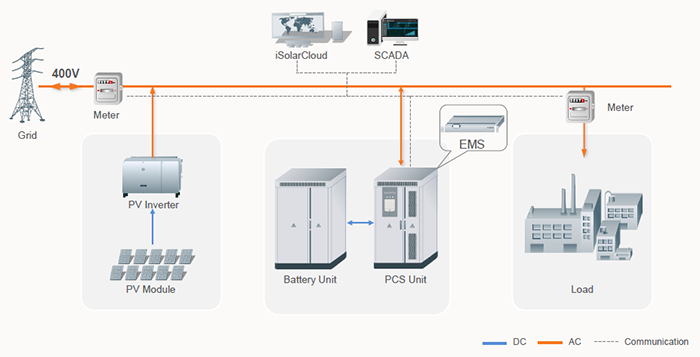 If combined with solar power, the ESS system will store excess solar power so that it can be used at another time, increasing the rate of self-consumption and reducing electricity purchased from the grid or not generating capacity on the grid according to requirements of EVN.
If not combined with solar power, the ESS system can store electricity from the grid at a time of low electricity prices and generate it for use during times of high electricity prices (generating as much as saving) to save electricity costs. In addition, the system also stores electricity as a backup power supply in case of power failure.
Outstanding advantages of the system
+ Store solar energy to be self-sufficient in power supply
The system stores solar power into storage batteries so that it can be used at night or during a power outage, maintaining stable operation of electrical equipment. Due to the storage battery as a backup power source, the system does not depend too much on the national grid, actively managing the power source effectively. Therefore, when there is a power failure, the equipment still works normally and stably.
+ Large capacity range, continuous power supply from 2 to 5 hours
The ESS system for businesses provided by DAT has a capacity range of 50kW – 1MW, the ability to provide continuous power from 2 to 5 hours.
+ Can be used on islands and areas without electricity
This solution can be combined with solar power or generators for use on island districts and areas where there is no electricity grid.
+ Fast and smart charging/discharging mode, saving electricity amount

With many operating mechanisms, flexible energy flow, the system is configured with charge/discharge function according to actual time and demand, allowing to charge and store at the time the solar power system generates peak power and discharge at times of high load demand or at the request of EVN, saving a lot of electricity costs, achieving good efficiency in power system management and operation.
+ Protection class IP54 & C5 safe for outdoor installation
The system is designed in a modular form that can be easily upgraded and maintained. At the same time, meeting the IP54 protection level and C5 anti-corrosion standard, it is safe for outdoor installation, safe to use without worrying about erratic weather.
Limits of the system
Since the system capacity is highly dependent on the load capacity and standby time; therefore, in order for the system to meet the needs of the equipment load in the family and enterprises, to operate stably when there is no power grid, customers need to be surveyed and consulted by ESS power storage solution providers to choose a system with the highest capacity and storage capacity.
Choose DAT Solar – Choose an efficient ESS solution
Over the past 15 years, DAT Solar has constantly developed a comprehensive Ecosystem, selected global quality products and researched solutions to increase efficiency for customers, partners and investors of solar power.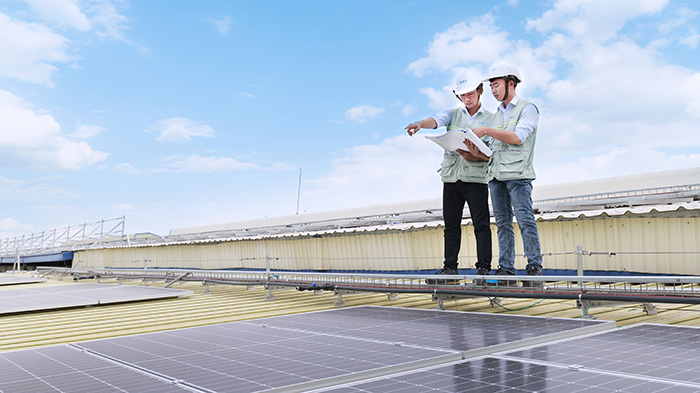 Especially, for the ESS power storage solution for enterprises and power plants, DAT Solar's team of engineers and solar experts will survey the load consumption parameters, the existing power system structure and the demand for back-up power supply for important loads, usage load time, etc. to advise and offer deployment plans, design suitable ESS storage solar power systems, effective power management, maintain a stable and continuous power supply.
More reasons for customers and partners to accompany DAT Solar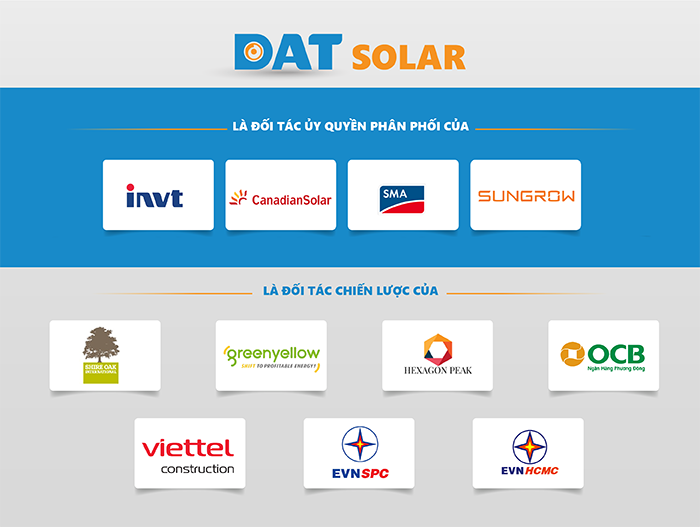 If you purchase DAT Solar's products/solutions, you will be trained, coached in knowledge of solutions and deployment techniques with the direct participation of a team of experienced DAT Solar experts and engineers in providing and designing, deploying more than 10,000 solar power systems.
Become a Partner: DAT Solar is committed to providing a full package of products/solutions, companion and support in terms of policies, tools, training, customers and techniques.

Large warehouse, ready goods: Especially in terms of equipment sources, DAT Solar invested in a large warehouse in Ho Chi Minh City, Hanoi, and Can Tho, about 10MWp of batteries and tens of thousands of inverters are always available at competitive prices, helping customer and partners not to waste time and money on importing and storing equipment.
DAT Solar technical service centers are authorized by manufacturers to guarantee genuine products in Ho Chi Minh, Hanoi, Can Tho
All products provided by DAT Solar have genuine electronic warranty. Customers can install and check the warranty period and policy at the DAT Portal App on Google Play (Android) or Apple Store (IOS).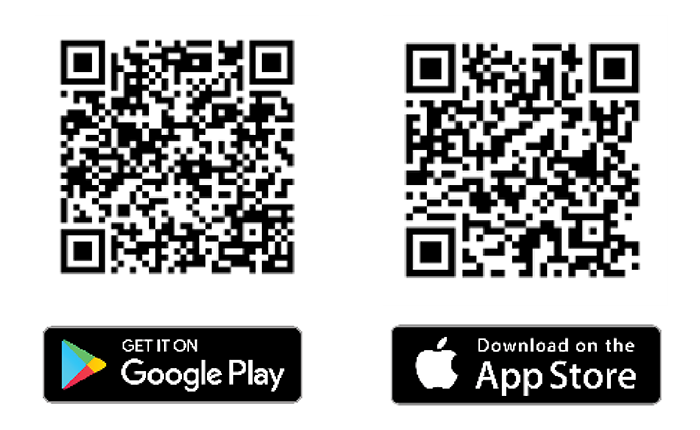 With more than 400 experienced employees always ready to support 24/7 before and after sales, DAT Solar is committed to ensuring the quality of all products distributed nationwide and providing smart solutions to help customers save time and costs.