Currently, the ESCO model in the field of solar power is one of the most effective investment solutions in terms of economy and has been applied by many enterprises. Enterprises do not need to invest capital at all, but still receive great benefits from saving BILLIONS OF ELECTRICITY BILLS each year.
ENTERPRISES DO NOT NEED TO INVEST CAPITAL TO INSTALL SOLAR POWER
With ESCO model, Enterprises take advantage of the idle roof to install solar power, DAT Solar and our Financial Investment Partners will provide a full system package from consulting, design, product supply, installation and warranty, ensuring system efficiency during system operation.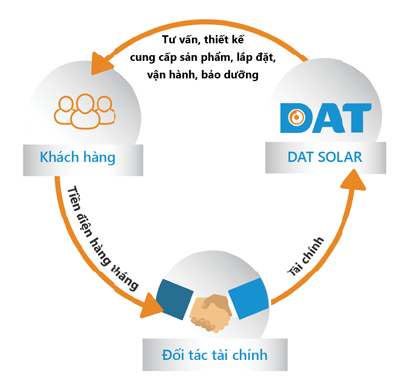 ---
ENJOY MULTIPLE BENEFITS


Enterprises do not bear any risks when participating in ESCO.


Reducing dependence on EVN and self-protection from annual electricity price increases (in 2019 electricity prices increased by 8.3%).


Using electricity at a price lower than that of EVN helps to save production costs.


Using the solar power system is completely free and enjoy the full revenue from the system after 20 years, thereby saving billions of electricity bills every year.


The solar power system cools the roof of the factory by about 5 degrees Celsius.


Using clean energy increases corporate brand value.
---
GET PROFIT OF ABOUT  VND 300 MILLION – 1 BILLION  EACH YEAR
By purchasing electricity from the solar power system at a price lower than that of EVN, enterprises can save about VND 300 million to 1 billion/year (depending on whether the enterprises are using electricity for production or business) when installing a capacity of 1MWP (needs about 6000m² of roof).
---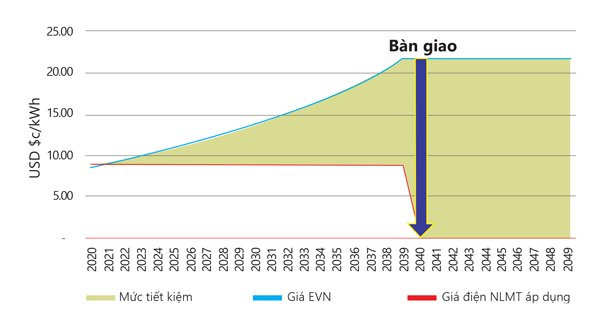 Savings from ESCO Model – Enterprise consuming electricity on site
IF THE BUSINESS OWNS THE ROOF OF THE FACTORY OF 6000M² AND UP, DAT SOLAR AND FINANCIAL PARTNER WILL BE CONNECTED WITH YOU!
---
WHY CHOOSE DAT SOLAR?
DAT Solar is a member brand of Dat Technical Co., Ltd. (DAT), established in 2006, is a leading product supplier and solution developer in Vietnam in high-tech fields such as Solar Power & ESS, Automation, Elevator Control and UPS.
Currently, DAT is a Partner of many financial investment funds, providing ESCO solutions, renting factory roofs, providing financial loans for installing solar power with criteria that are very suitable for the Vietnamese market.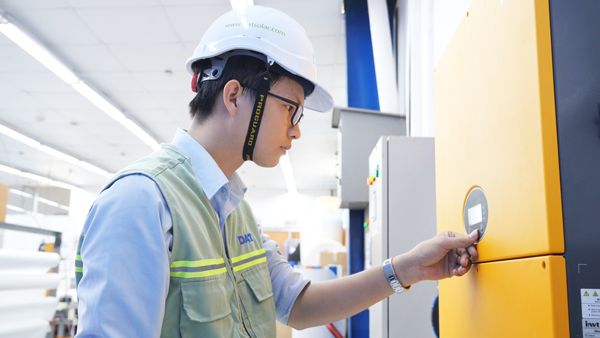 15+ years of experience.


400+ equivalent to 41% of highly qualified engineers.


10.000+ business customers.


9500+ solar power systems with total capacity of 560MW installed nationwide.


24/7 consulting support and lifelong companionship of the project.
We are also:


Authorized partner of

, general representative of

in Vietnam, commercial partner of


Strategic partner of

---
FOR MORE DETAILS ABOUT PROCEDURES AND WORKING PROCESS