18.03.2021
DAT SOLAR INTRODUCES HYBRID POWER STORAGE SOLUTION FOR HOUSEHOLDS
In order to help households maintain a stable and continuous power source for important load devices and optimize solar power consumption, DAT Solar offers a hybrid power storage solution that actively and efficiently manages energy sources, not depending much on the grid.
Solar power storage, uninterruptible power supply for priority electrical equipment
Hybrid power storage solution is a solar power system with storage, using hybrid inverter and lithium battery to store electricity, helping to provide stable power for important electrical equipment (surveillance cameras, freezers, etc.) computer systems, fire alarm systems, koi ponds, etc.) need to maintain a constant source of electricity and store excess solar power during the day for use in the evening or when the power fails.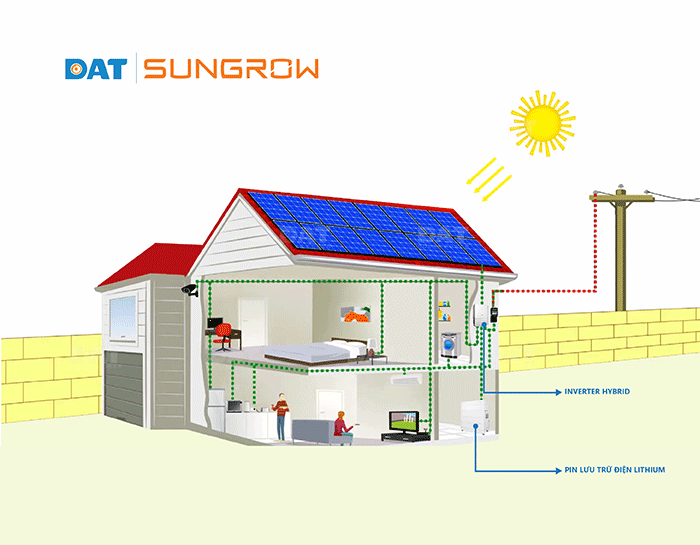 The Hybrid solution prioritizes the use of solar power to power important household loads while simultaneously charging the storage battery. If the solar power is left over, it will be connected to the grid to supply other devices. When there is a shortage of solar power, the system will supplement the grid power to supply electrical equipment and charge the storage battery. In the event of a power failure, the system uses solar energy and electricity from storage batteries to provide priority load equipment, maintaining a constant and stable power supply. As a result, households can effectively store solar energy for use even during a grid outage or at night.
Power storage solutions combined by global quality equipment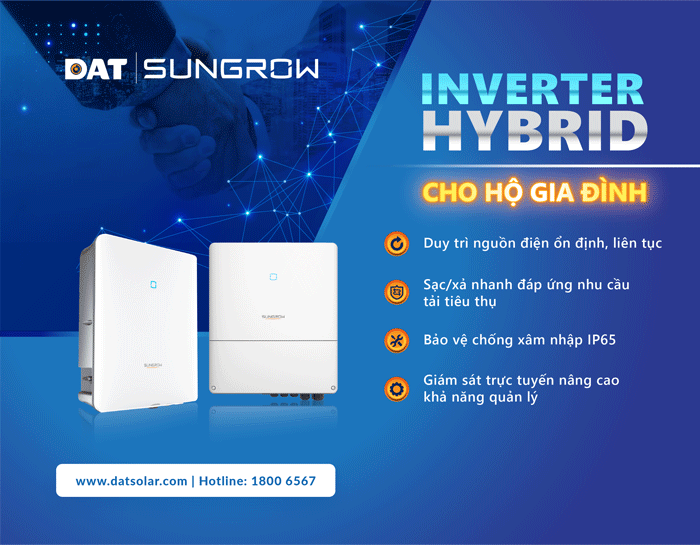 For the Hybrid power storage solution for households, to bring high-performance solar power systems, DAT Solar cooperates with Sungrow to supply the market with single-phase voltage, SH5K-30 5kW hybrid inverter and SH5.0/6.0/8.0/10.0RT hybrid inverter with 3-phase voltage, capacity from 5 to 10kW integrated with many modern technologies, the time to switch to standby mode is less than 20ms to ensure power supply Continuity, IP65 protection class standard…
In addition, the hybrid inverter is also configured with a charge/discharge function according to actual time and needs; integrated EPS in the inverter makes installation simpler; quick and easy operation via LCD screen or phone app to increase convenience for households.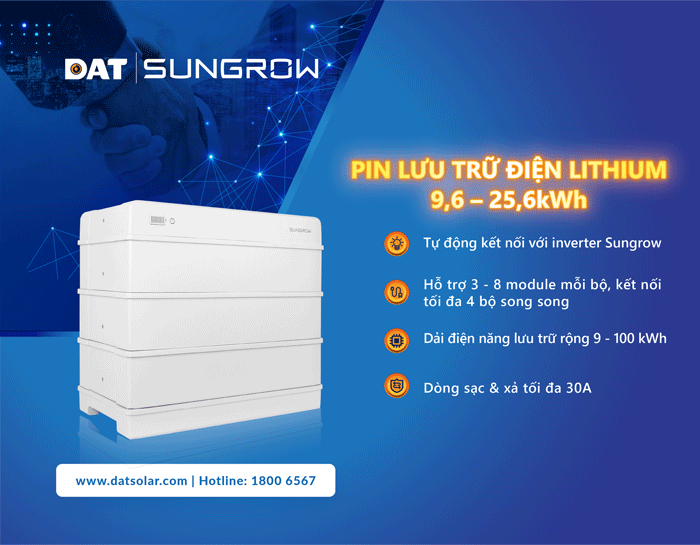 In addition, the Hybrid power storage solution also uses the SBR096 – 256 Lithium battery with a capacity from 9.6kWh to 25.6kWh, which can expand the storage power range from 9 to 100kWh; flexible design, supporting 3 – 8 modules each, connecting up to 4 sets in parallel; 30A continuous charging and discharging current, connected to Sungrow inverter without installation. With Sungrow's hybrid inverter and battery storage duo, the hybrid system will operate with higher efficiency, the process of energy transfer and charging/discharging is faster, and priority load devices operate continuously, reducing damage when the grid power fails.
Peace of mind with quality products, genuine warranty policy
Over the past 15 years, DAT Solar has constantly developed a comprehensive Ecosystem, selected global quality products and researched solutions to increase efficiency for customers, partners and investors of solar power. Especially, for the Hybrid electricity storage solution for households, DAT Solar's team of engineers and solar experts will survey the load consumption parameters, the existing power system structure and the demand for back-up power supply for important loads, usage load time, etc. to advise and offer deployment plans, design suitable Hybrid storage solar power systems, effectively manage power sources, maintain power uninterruptible provision for priority loads and other household appliances.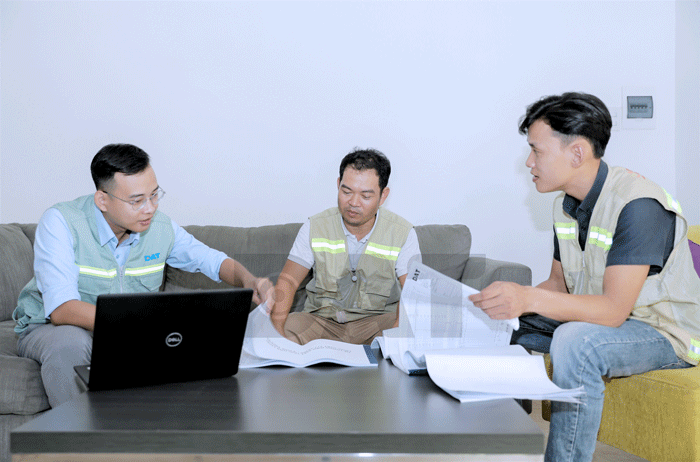 In addition, DAT Solar is also a strategic partner and authorized distributor of Sungrow in Vietnam, committed to bringing new products, the most advanced technology today, fully meeting international standards and genuine warranty policy. Hybrid inverter products are warranted for 5 years, battery storage for Hybrid solutions is warranted for 10 years in accordance with the technical service handling process, warranty policy from the manufacturer at 3 DAT Technical Service Centers in Ho Chi Minh City, Hanoi and Can Tho. Therefore, customers can feel secure when choosing and using Sungrow branded products provided by DAT Solar.
For more advice on Hybrid power storage solutions that suit your needs and maintain 24/7 continuous operation for priority loads, contact hotline 1800 6567 or leave information in the consultation form below. DAT Solar is always ready to accompany you, bringing smart and effective solar power solutions, helping customers save time and costs.
DAT TECHNOLOGY CO., LTD
Headquarter:
B163, Quarter 3, Nguyen Van Qua, Dong Hung Thuan Ward, Dist.12, HCMC
Ha Noi Branch::
05-10A, Hoang Mai Industrial Park, Hoang Van Thu Ward, Hoang Mai Dist., Hanoi
Can Tho Branch:
146 Bui Quang Trinh St., Phu Thu Ward, Cai Rang District, Can Tho
Hotline: 1800 6567
Email: solar@dattech.com.vn
Website: www.datsolar.com
Fill in the information for a consultation