19.11.2021
SMA increases the warranty period from 5 years to 10 years for Residential Inverters
With the desire to enhance service quality, provide peace of mind and effectiveness for customers, SMA introduces the global warranty program "5Y + 5Y", entirely free of charge, for its range of grid-tied inverters designed for residential segments.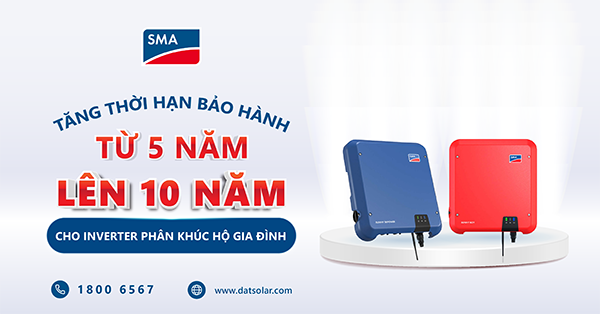 Under this program, SMA will extend the warranty period from 5 to 10 years for inverter products with a capacity ranging from 3 – 10 kW, specifically for household use, small-scale projects installed or operated from October 1, 2021, without any additional fees.
Customers wishing to participate in SMA's "5Y + 5Y" warranty program are invited to register for extended warranty within 12 months from the operational date.
Registration link: https://bit.ly/3kQZzs6
Presently, SMA Sunny Boy 5kW, single-phase 220V, and Sunny Tripower 6 – 10kW, three-phase 380V inverters distributed by DAT Solar can all have their warranty extended to 10 years. These are popular grid-tied inverter products that have received positive feedback from residential project customers due to their superior technical quality.
For more detailed information about SMA's products and the new warranty program, contact the business support staff in your region or call the toll-free hotline at 1800 6567 for 24/7 assistance and advice from DAT Solar.