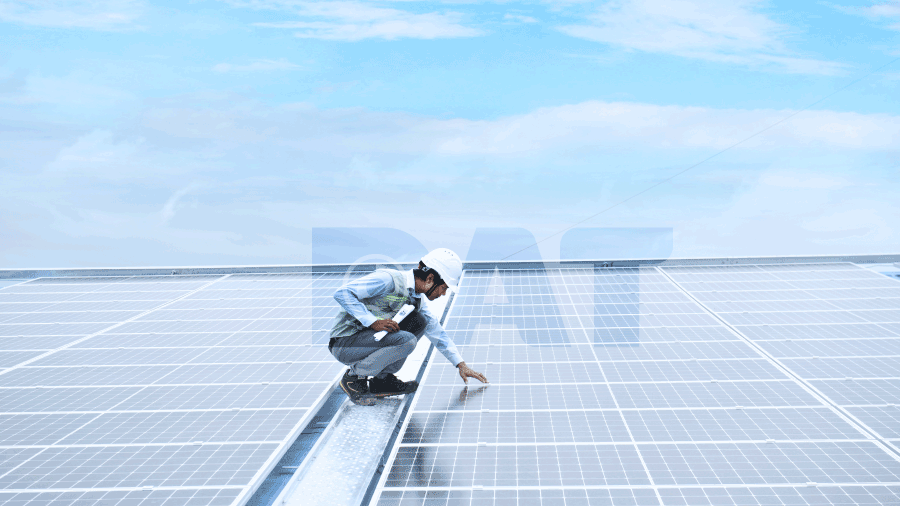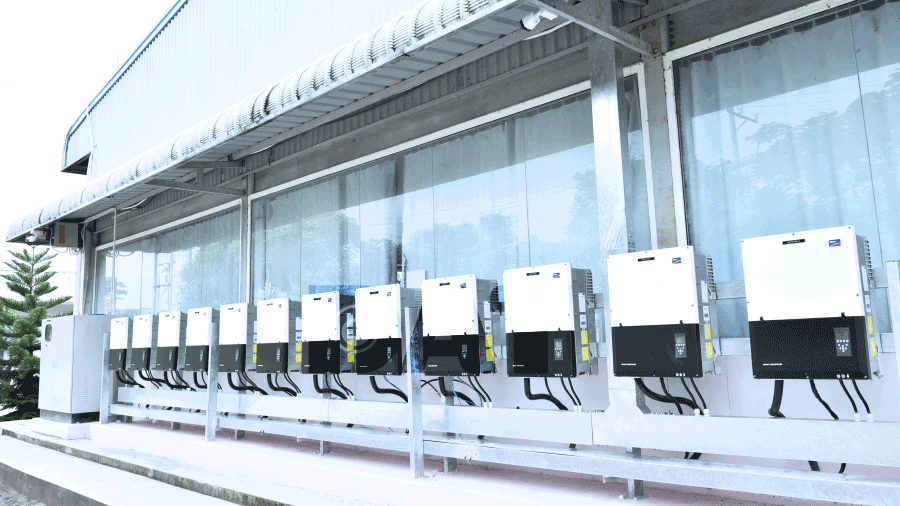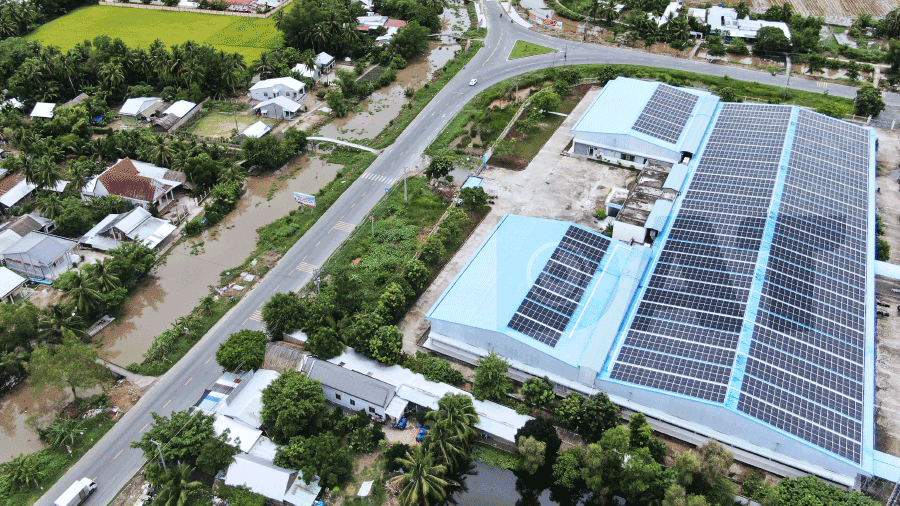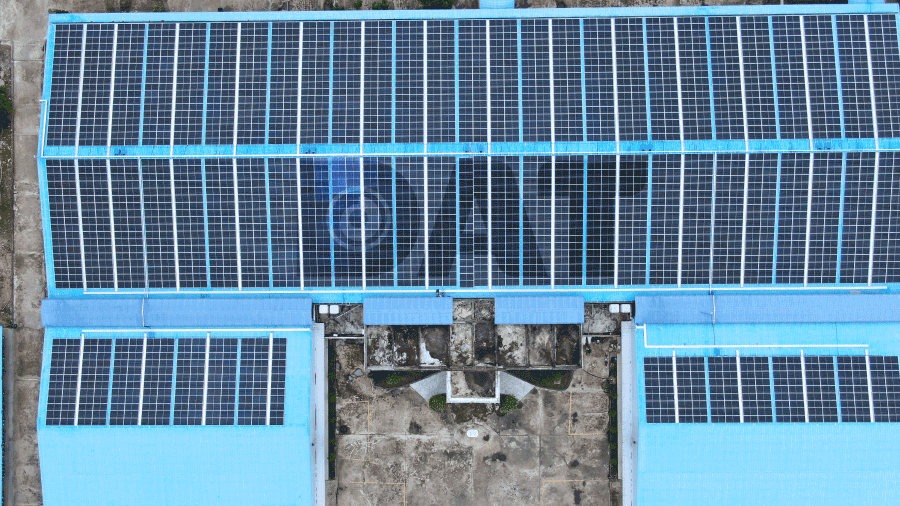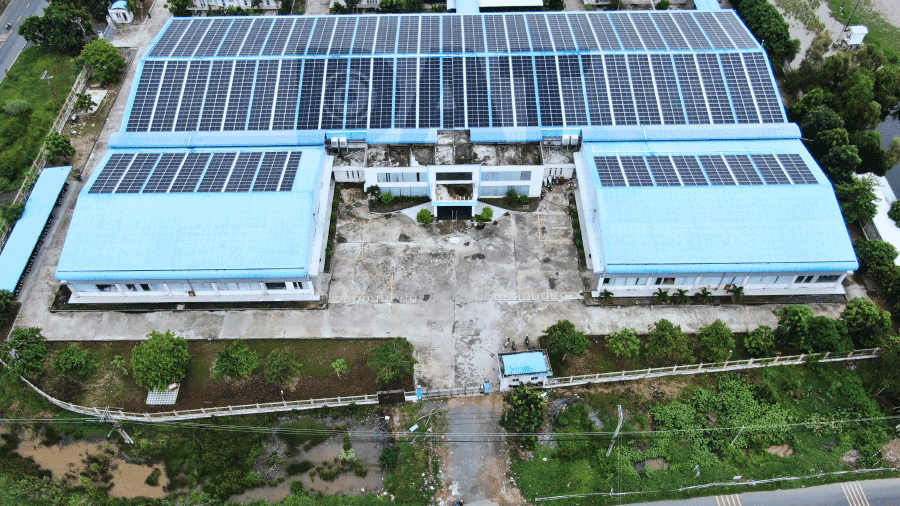 DAT Solar continues to be selected as the EPC general contractor for the 998KWP Kien Giang project
After the success of the 993kWp project in Hau Giang, the owner 4M GREEN POWER satisfies and highly appreciates DAT Solar's ability as an EPC general contractor, and the ability to provide quality equipment for the project. Therefore, the owner continues to trust and choose DAT Solar as the EPC general contractor for the next project.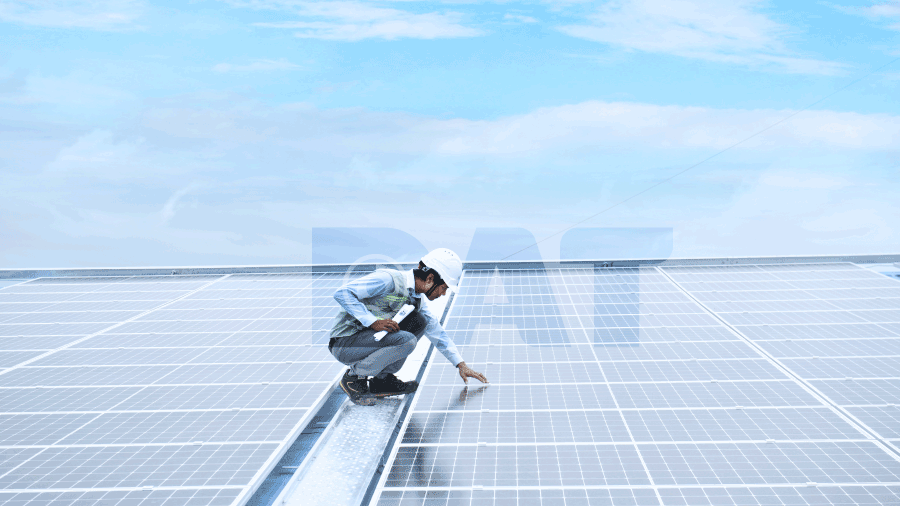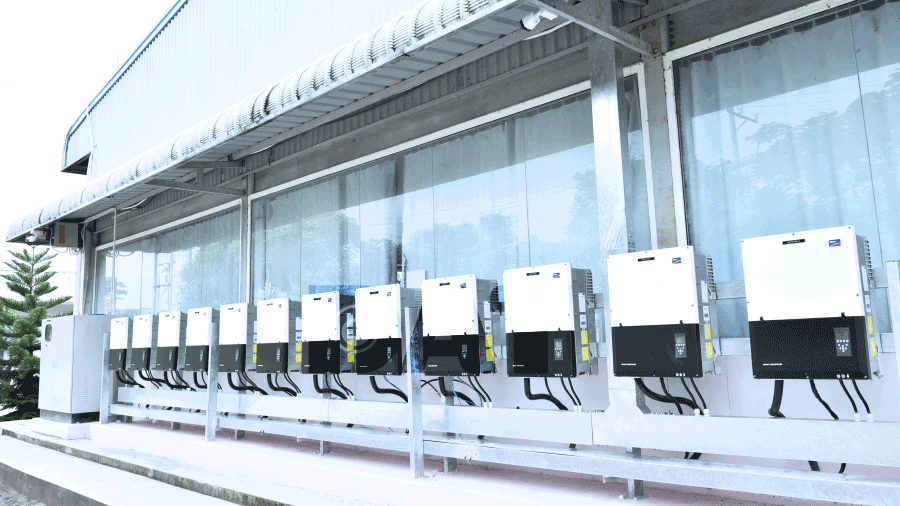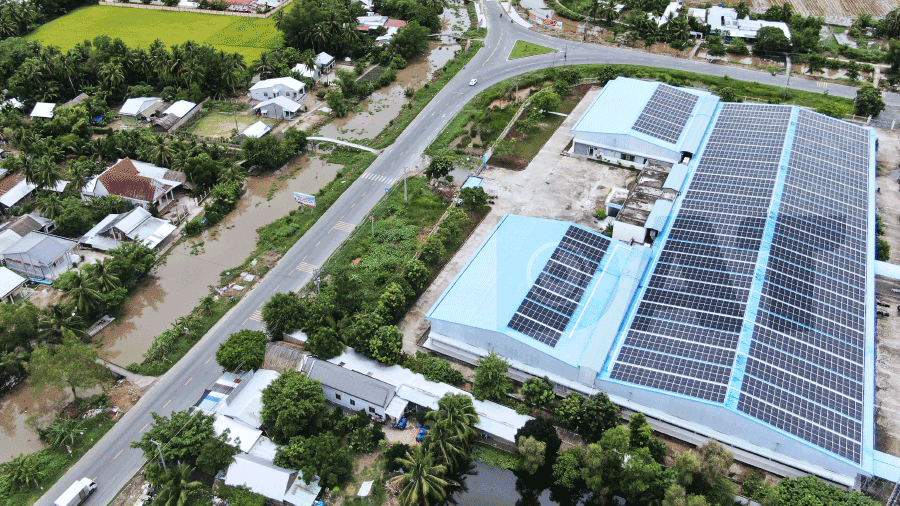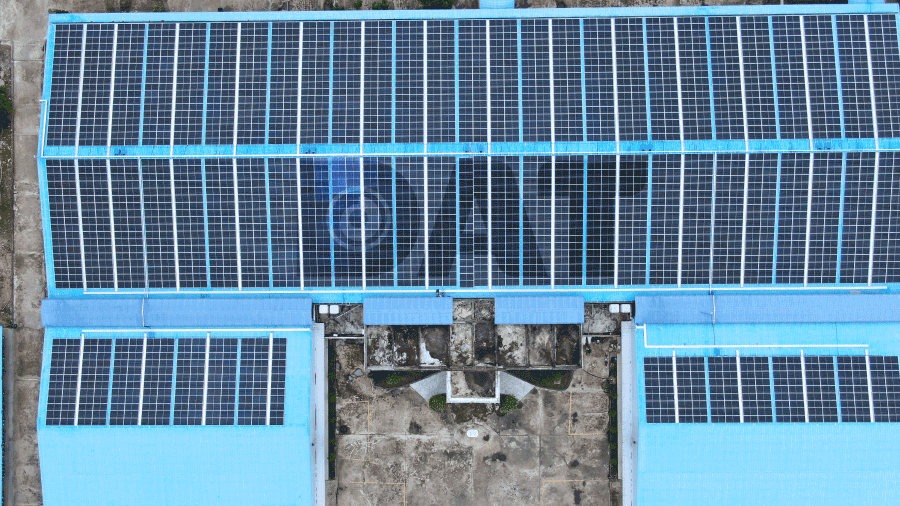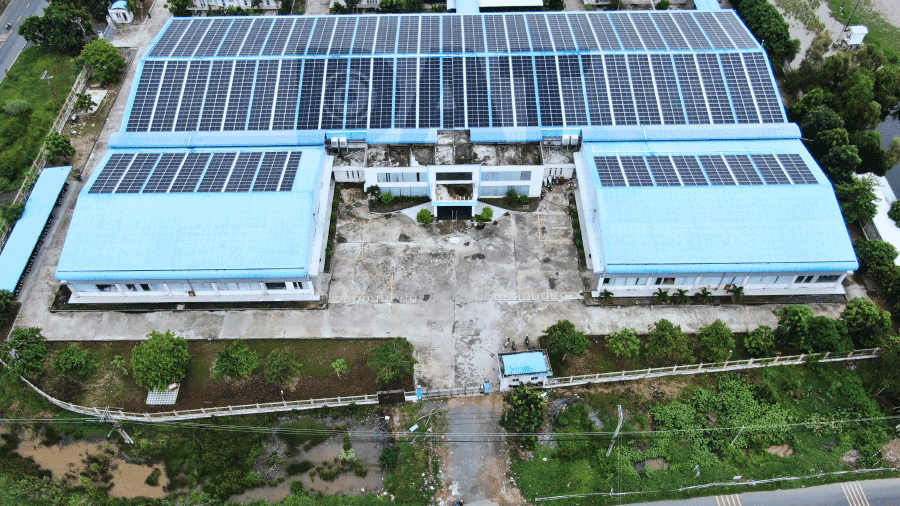 PROJECTS IN KIEN GIANG
Capacity: 998kWp
The Owner: 4M Green Power Investment Joint Stock Company (4M GREEN POWER)
EPC general contractor: DAT Solar
Construction partner: Viettel Construction (VCC)
Installation location: Vinatex Kien Giang Garment Factory
Main equipments:
Time of completion: September, 2020
998kWp solar power project at the roof of Vinatex Kien Giang factory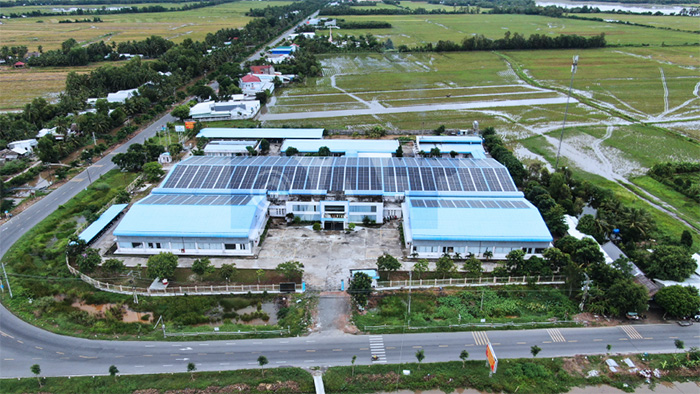 INVESTMENT OPPORTUNITIES
The solar power craze is an important "push" to attract many owners to decide to participate in the potential renewable energy market, bringing many practical benefits from using and selling electricity to EVN.
Thanks to Decision 13 of the Government and supporting policies of the Electricity of Vietnam (EVN), enterprises and organizations will have more opportunities to invest in solar power installation, and the process and procedures for connecting to the national grid will be simpler and easier.
After conducting a survey of favorable locations, the owner 4M GREEN POWER decided to install more solar power systems at Vinatex Kien Giang factory. This place has many favorable factors about the average amount of solar radiation 4-5 kW/h/m2/day; the roof of the workshop also meets structural safety standards and is suitable for installing 998kWp systems.
The Owner 4M GREEN POWER continues to trust and choose DAT Solar as the EPC general contractor for the next project in Kien Giang thanks to the capacity, experience and quality of projects implemented by DAT Solar.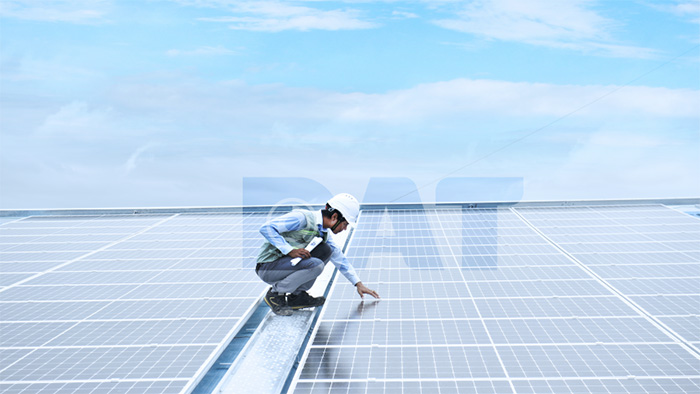 CHALLENGES
The success of the 993kWp project in Hau Giang is both a satisfaction and a standard measure, requiring DAT Solar's next projects to have better quality and faster progress.
The Owner 4M GREEN POWER continues to choose equipment with high standards to use for Kien Giang project such as: panels, inverter, DC/AC electrical cabinet, Junction Box, aluminum rail, wire, cable tray, etc.
In addition, the construction team must be meticulous and careful in each stage, the installation of working floors, roof waterproofing, installation of water pump system to clean batteries must be done carefully, safely and on schedule.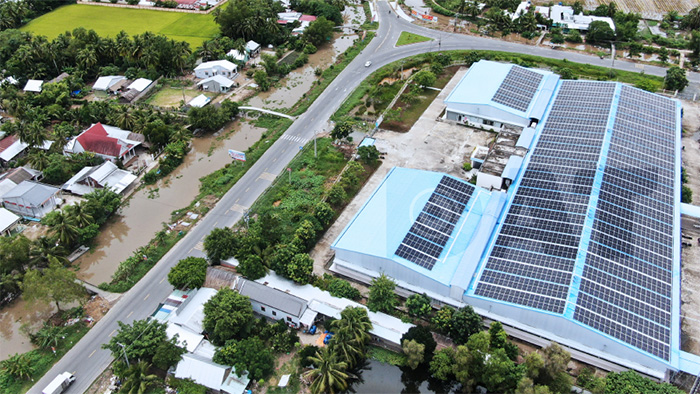 EFFECTIVE SOLUTION
Based on the requirements and expectations of the owner 4M GREEN POWER, DAT Solar consulted to design and offer suitable solar installation solutions, helping the system achieve high efficiency and power output, saving investment costs, shortening the payback period.
After analyzing the needs, the team of engineers conducts surveys and evaluates the roof structure, prepares design drawings, and dissects construction materials. The project continues to use the super conversion duo: Canadian Solar CS3W-440MS panels and SMA 75kW grid-tied inverter. Dedicated peripherals such as: DC Combiner Box; DB Solar electrical cabinets; DC, AC cables; aluminum rail, cable tray, etc. have high durability, withstand harsh weather environments and meet Vietnamese and international quality standards.
With the ability to supply equipment quickly and in a timely manner, the equipment and materials are always ready to be supplied in the right stage of project implementation.
To speed up the project completion, DAT Solar cooperated with Viettel Construction (VCC) to construct many important items. DAT Solar engineer team supervises project quality, technology transfer, operation and maintenance professionally, committed to efficiency, safety and aesthetics.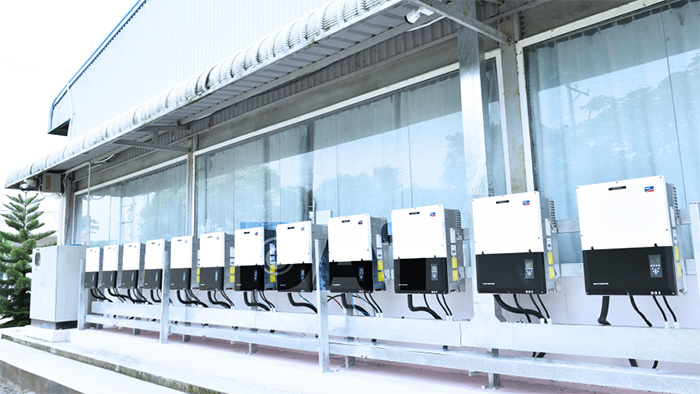 COMPLETED PROJECTS
The 998kWp solar power system at Vinatex Kien Giang factory, when completed and put into use, completely met the expectations of the owner 4M GREEN POWER, meeting the criteria for quality and performance. The system meets 100% of the set plan, quickly passes EVN's tests to connect to the national power grid, operates stably and achieves high power output.
Outstanding efficiency of Kien Giang project
+ The monthly power output is about 120 MWh
+ Generate income of about VND 3 billion/year
+ Reduce CO2 emissions of 105,389 kg/month
+ Environmental protection, equivalent to new planting 55.712 green trees
+ Reduce roof temperature by approx 5°C
+ Use the system with peace of mind for up to 30 years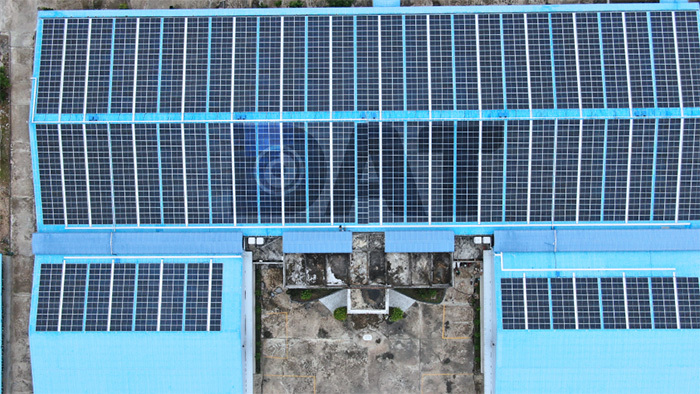 If you want to become an effective solar power investor, with a system that achieves high efficiency and output, immediately contact DAT Solar via hotline 1800 6567. We are ready to accompany you for the entire project life cycle.
DAT TECHNOLOGY CO., LTD
Headquarter:
B163, Quarter 3, Nguyen Van Qua, Dong Hung Thuan Ward, Dist.12, HCMC
Ha Noi Branch::
05-10A, Hoang Mai Industrial Park, Hoang Van Thu Ward, Hoang Mai Dist., Hanoi
Can Tho Branch:
146 Bui Quang Trinh St., Phu Thu Ward, Cai Rang District, Can Tho
Hotline: 1800 6567
Email: [email protected]
Website: www.datsolar.com