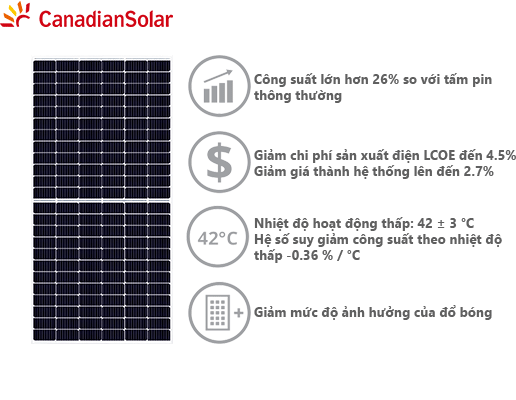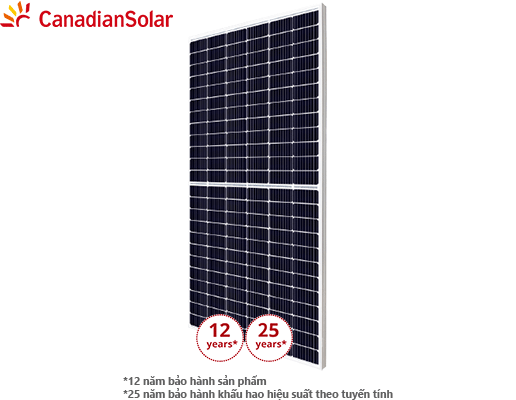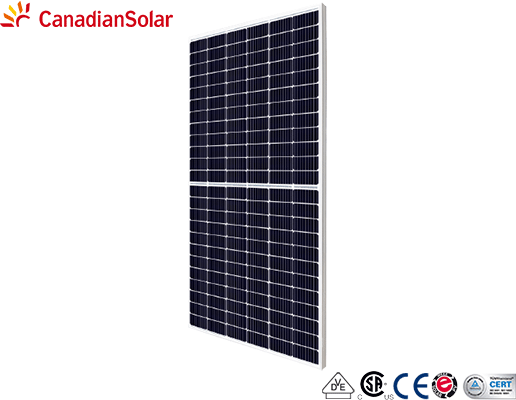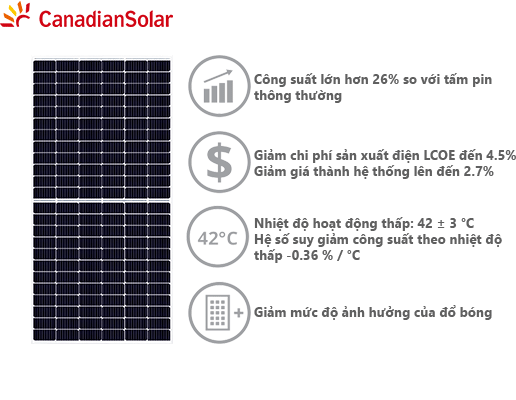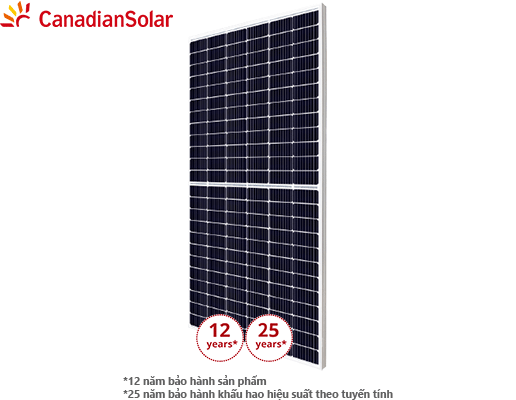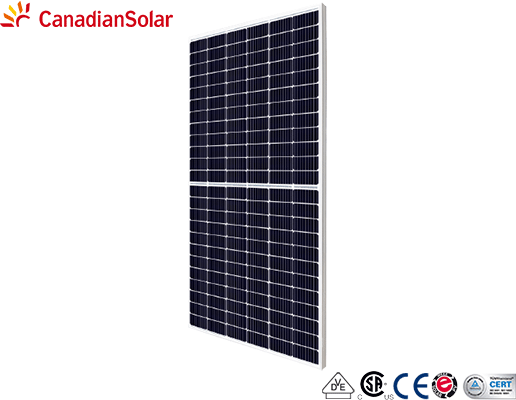 450W Canadian Solar Solar Panel
Mono 450W HiKu branded Canadian Solar is a single crystal battery is manufactured using Ku Modules cooling technology, based on Low Internal Current (LIC) Modules technology. Panels are equipped with the most advanced technologies today such as: Half-cut cells, PERC, Multi Busbars, Split panels. Canadian Solar panel capacity is 26% larger than conventional panels, reducing LCOE electricity production costs by 4.5%, system costs by up to 2.7%.
Request a quote
Specifications
| | |
| --- | --- |
| Type: Monocrystalline | Number of Cells: 144 cells |
| Trademark: Canada | Weight: 24.9 kg |
| Photovoltaic efficiency: 20.37% | Size: 2108 ˣ 1048 ˣ 40 mm |
See detailed specifications
        STANDARD TEST CONDITIONS DATA
CS3W
450MS
Maximum Power (Pmax)
450 W
Maximum power voltage (Vmp)
40.5 V
Maximum power current (Imp)
11.12 A
Open-circuit voltage (Voc)
48.7 V
Short circuit current (Isc)
11.65 A
Module photovoltaic efficiency
20.37%
Operating temperature
-40oC~+85°C
Maximum voltage
1000 V (IEC/UL) or 1500 V (IEC/UL)
Module fire performance
Type 1 (UL 1703) or Class C (IEC 61730)
Max. series fuse rating
20 A
Application classification
Class A
Power tolerance
0 ~ +5 W
        NOMINAL MODULE OPERATING TEMPERATURE DATA
CS3W
450MS
Maximum Power (Pmax)
335 W
Maximum power voltage (Vmp)
37.7 V
Maximum power current (Imp)
8.89 A
Open circuit voltage (Voc)
45.6 V
Short circuit current (Isc)
9.40 A
*Under Nominal Module Operating Temperature (NMOT), irradiation of 800 W/m2, spectrum AM 1.5,
ambient temperature 20°C, wind speed 1 m/s.
        MECHANICAL DATA
Cell type
Mono-crystalline
Cell arrangement
144 [2 X (12 X 6) ]
Dimensions
2108 X 1048 X 40 mm (83.0 X 41.3 X 1.57 in)
Weight
24.9 kg (54.9 lbs)
Front cover
3.2 mm tempered glass
Frame material
Anodized aluminum, reinforced with crossbars
J-Box
IP68, 3 bypass diodes
Cable
4 mm2 (IEC), 12 AWG (UL)
Cable length (including connector)
Portrait : 500 mm (19.7 in) (+) / 350mm (13.8 in) (-); Horizontal: 1400mm (55.1 in);
Connector Jack
T4 series / H4 UTX / MC4-EVO2
Packaging specification
27 pieces / pallet
Per container
594 pieces
        TEMPERATURE CHARACTERISTICS
Coefficient of power attenuation
-0.36 % / °C
Coefficient of voltage attenuation
-0.29 % / °C
Coefficient of current attenuation
0.05 % / °C
Operating temperature of cell
41 +/- 3 °C
         QUALITY STANDARD
Certificate
IEC 61215 / IEC 61730: VDE / CE / MCS / CEC AU
UL 1703 / IEC 61215 performance: CEC listed (US) / FSEC (US Florida)
UL 1703: CSA / IEC61701 ED2: VDE / IEC62716: VDE / IEC60068-2-68: SGS
Take-e-way
DAT IS A PARTNER OF CANADIAN SOLAR VIETNAM
DAT is the official partner of Canadian Solar in Vietnam with more than 400 experienced staffs who are always ready to support 24/7 before and after sales. We are a Vietnamese enterprise committed to ensuring the quality of all products distributed nationwide and providing smart solutions to help customers save time and costs.
Another reason for you to rest assured to put your trust in us:

15+
Year Of Experiences

350+
Staff

9500+
Solar power system with a total
capacity of 560MW nationwide
10+
10MW solar panels
are always available
ACCOMPANY DAT TO "GREEN" VIETNAM WITH SOLAR POWER YOUR WAY!
OUTSTANDING FEATURES
Convergence of cutting-edge technologies
This panel is equipped with the most modern technology in the field of solar power. Here are four technologies that have made this product's reputation:
– Half-cut cells: With this technology, the battery cells are cut in half, so the number of independently operated battery cells will double, from 72 to 156 cells on the same sheet size. Thereby reducing the current helps cooler panels when operating, thereby increasing the efficiency of solar power conversion. Besides, these factors also help the battery has a longer life than usual.
– PERC: PERC technology stands for Passivated Emitter and Rear Cell. PERC helps improve the efficiency of the panel by allowing electrons to move more easily while increasing the light reflection on the back of the solar cell, helping to convert greater amounts of solar energy than usual.
– Multi Busbars: The Busbar acts as the main path that conducts electrons from the battery cell to the outside circuit to form an electrical current. With a battery cell with many busbars, electrons are easier to concentrate to form more current. So the panels use many thin metal wires to guide the current, which is stable and less likely to be consumed.
– Split panel: This technology divides panels into 2 independent parts. Instead of the traditional type, if a portion of the panel is shaded, the entire panel will be affected. Now, the impact level will be reduced by half, since the battery has been cut into 2 parts to operate independently.
Rigorous inspection procedure to bring homogeneous products
Before finishing and packing products, Canadian Solar panels must pass 359 different quality control points. Besides, due to being 100% manufactured by robots, millions of panels are uniformly quality. This helps investors not to worry about problems caused by the fault of the manufacturer, which takes time and mind to replace the faulty panels. Canadian Solar gives customers the peace of mind of using it for more than 35 years without any problems.
Performance in the highest PTC condition in the world
This is the leading important indicator for a solar panel. Unlike performance tested under ideal conditions, performance tested under PTC conditions (tests and assessments based on actual weather conditions) will most accurately reflect the productivity that the panels bring. The results show that the number reaches 93.13% on this panel, the highest in the world and far ahead of the remaining competitors. With this lofty index, the solar power conversion efficiency of the panels will almost not be significantly reduced in the erratic weather conditions in Vietnam, both in the hot and weak sunshine.
CANADIAN SOLAR – TOP 3 GLOBAL LEADING PANEL MANUFACTURERS
Canadian Solar is the world's leading designer and manufacturer of solar panels, with 18 years of experience and 13,000 employees globally. Canadian Solar has implemented many large-scale projects with a capacity of up to 46 GW all over the world.
QUALITY SAFETY CERTIFICATE

Products are recognized to ensure high quality according to European standards. Canadian Solar panels have met the standards of safety, health, life and environmental protection. Products are allowed to be sold in countries of the European Economic Area (EEA, etc.)

CSA is the world's leading organization in the field of safety testing. Products are certified by CSA to ensure high quality according to Canadian and US standards.
Set of 3 certificates ISO 9001, ISO 14001 and BS OHSAS 18001 certified by TÜV Rheinland (the leading technical inspection association in the 3 major TÜVs in Germany)

WEEE is an organization specializing in electrical and electronic waste standards. The optoelectronic devices and other equipment of Canadian Solar panels are manufactured and recycled to ensure compliance with the guidelines of WEEE.

The VDE Testing and Certification Institute based in Offenbach (Germany) is one of the world's most renowned independent testing organizations for electrical and electronic products. Testing and certification based on IEC61215 / 61730 standard.
POLICY
12 year product warranty
We are committed to the quality of materials and craftsmanship in the manufacture of panels to maintain outstanding quality for 12 years.
25 year linear performance warranty
We guarantee your Canadian solar panels will reach their expected performance for 25 years. Specifically as follows: ensure that the product capacity is not less than 98% of the capacity stated on the panel in the first year. ensure that the capacity reduction per year is not more than 0.55% from year 2 to year 25 and the output power should not be less than 84.8% of the capacity stated on the panel label in year 25.
PICC insurance
The insurance program covers the official terms of Canada Solar, Inc.'s warranty, covering technical failures of PV modules that affect output and panel performance.
During the warranty period, if the panel has a technical defect from the manufacturer, immediately PICC Insurance will cover the entire cost. PICC insurance is committed that the coverage shall not be irrevocable for 25 years (even if Canadian Solar defaults or goes bankrupt).